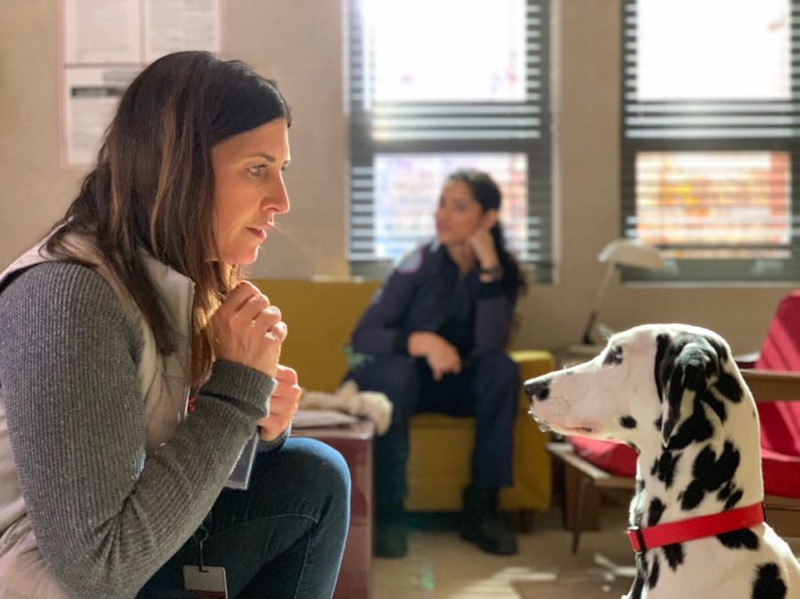 On "Chicago Fire," Canine Actor Takes Center Stage
Tuesday is one of the most beloved crew members stationed at Firehouse 51 and one of the most friendly cast members on Chicago Fire. Despite walking on all fours, barking, and having a spotted coat, Tuesday is a professional actress who trains for her role, rehearses her scenes, and works under strict rules and regulations just like her costars. "She has an amazing work ethic, and she thinks she should be in every scene," her trainer Christine Mahaney told us.
Christine is an on-set animal trainer whose relationship with Wolf Entertainment began when she trained a couple of rats for a Chicago Med episode in one of the show's earlier seasons. Christine has since trained multiple dogs and cats for all of One Chicago, although most of her time is devoted to being Tuesday's "movie mom." As is common with working animals, Tuesday splits her time between Christine's care and the Michigan-based family who adopted her as a newborn puppy. Christine has three dogs of her own, all actors, and one cat, Ms. Kitty, who appeared alongside Tuesday as Dusty in the last season of Fire.
Like most jobs on set, being an animal trainer requires patience and strong communication. Christine's line of work, however, demands a specific toolset for communicating. Christine's technique to train animal actors is "training out of fun not fear." With Tuesday, Christine teaches tricks, cues, and actions with hand motions, whistles and praise, and she enforces good behavior with positive rewards, like kibble. While production provides Christine ample time to rehearse with Tuesday on set after they receive a new script, Christine also trains Tuesday on crowded streets and inside malls, as the unpredictable, noisy, and chaotic nature of these locations mimics the energy on a television set.
Just like her cast members, Tuesday receives call times and puts in special requests to craft services. Despite the language barrier between Tuesday and the rest of the cast and crew, she has a great reputation on set. "She's very social," Christine added. "When I have a call time, I have to allow extra time for Tuesday to say her hellos to every single person she sees on her way in, and then when we're wrapped, she never leaves the set without saying many goodbyes to her people, as she thinks they are."
Working with Tuesday is a walk in the park compared to the six point buck and the skunk Christine once trained, but also a career highlight in that it came together completely by chance. Christine's role as the animal trainer also includes casting. Through her company WhatADog, Christine maintains a portfolio of animals with specific skill sets, and producers reach out to her with descriptions of what their scripts call for. She submits options, the search narrows, and then a traditional audition process follows. But when it came to casting Tuesday's role, Christine and the Chicago Fire producers struggled to find the right dog. With just days to spare before shooting was scheduled to begin, Christine found Tuesday's mom on Facebook after inquiring about a different dalmatian. One thing led to another, and Tuesday made her television debut at just 15 weeks old. "She worked throughout her puppyhood stages and sometimes wanted to just run around and play, but she's done really well. She has the right temperament."
Sociability, Christine added, is key to being a working animal. "You can have the most beautiful dog who has come from the greatest bloodlines. None of that matters to me. What matters to me is that dog's temperament. Does he love people? Does he love being around new environments? You have to socialize dogs…without that, they don't have a chance in the industry." It goes to show, looks aren't everything.
Check out Tuesday and Christine rehearsing for a scene below!