The Making of our Chicago Crossover Event: Infection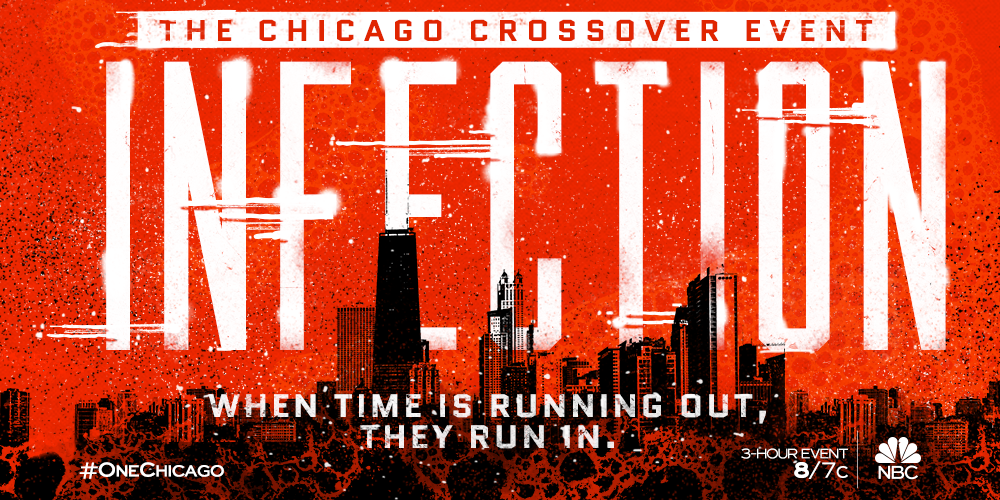 What happens when you bring the heroes of "Chicago Fire," "Chicago Med," and "Chicago P.D" together to defend their city against a deadly bacteria? One Chicago's massive crossover event, "Infection".
The series of episodes, which air back-to-back tonight, marks one of our largest productions to date. We took a moment to chat with our Director of Programming, Anastasia Puglisi, to learn more about what it took to bring this three-part story to life.
The One Chicago crossover is a huge undertaking for both the writers and productionCan you tell us how the planning comes together, from initial story idea to the final episodes that air?
"Infection" all started with an idea from Dick Wolf around weaponized flesh eating bacteria. I remember first hearing about the idea towards the middle of July and everything just snowballed from there. It was something we hadn't really seen before on television…and in real life, thankfully!
"Chicago Fire" showrunner Derek Haas led the charge from there, outlining the entire process and writing the arcs for all three episodes. The writers and producers of all three shows then came together and discussed the different storytelling elements, thinking about big picture elements and the overarching components of the story. Each year it becomes more clear, the major factor and key to success in executing these crossover episodes is endless collaboration. We're working with three productions, three sets of writers, directors, sets—three of everything!
As we get closer into production on any crossover event, it's scheduling mayhem. We shot these episodes back-to-back-to-back, and we had to schedule sets, actors, and so forth going across the three different shows. We would have a fire crew from "Chicago Fire" shooting on "Chicago P.D." set and standard episodes and crossover episodes shooting at the same time. It's like a huge jigsaw puzzle, but we're all united with the goal of creating something great.
Nobody knows the voices and characters better than the writers and showrunners of each respective show, so Derek worked with them to ensure everything flowed. So, say Derek was writing a "Chicago P.D." scene, he'd sit with the writer and ask about terminology, specific character reactions, and so forth. There's a creative synergy between everybody—from writing and directing to costume designing and props.
How does the creation of each episode vary from that of a regular season episode?
Even though we're all in one universe, the shows do operate as standard and separate productions until we have a massive event like this. Crossovers bring the various departments in production together, which doesn't happen as often as it does for the writers.
We also have a bigger budget for crossovers, so we get the chance to spend a lot more time and money on locations and set pieces. Last year, we shut down Michigan Avenue and brought that disaster to life—we actually had people freaking out on Twitter because they thought something was happening.
Other than the city itself, what are the common threads that tie the three worlds together? How do you utilize these in the crossover episodes?
It's all united by the central ethos of all of the Wolf shows; we're depicting the lives of the first responders who run directly into danger when others run away from it.
These stories are rooted in the fearless teams who are dedicated to the city; they take their oath seriously and protect the citizens of Chicago at any cost. Whether it's police running towards the gunshots or doctors working on patients and touching a potentially dangerous disease, we highlight their bravery and showcase how inspiring these people are.
How do you ensure a cohesive tone and aesthetic across all three?
It's hard! Writers will come in and help with other scenes on respective shows, and we have one costume designer, one special effects team, and one visual effects team overseeing post-production, which definitely helps. We've spent so much time in post-production dealing with color correction to ensure that everything looks the same.
Music really helps as well, and we had the same composer for all three shows. He wrote an unbelievable suite of music for the crossover that carries the tone throughout. The directors also get all three scripts and dive into the world as a team so that the overall vision is cohesive.
I have to say, what makes this place so special is that we're truly a family. Everyone wants to put something out together. It's a monumental amount of work, but due to the collaborative nature we're able to get it done.
What's the biggest challenge you face during production?
One of the hardest parts is the scheduling, but we also are always tasked with creating something different and better than what we did before. These happen once a season, and last year we thought, " Oh, wow. How are we going to beat that?"
This year, we went in a different direction. It's like a horror movie; an apocalyptic event that is totally different than anything else we've done.
Another challenge we faced was—and I don't want to give anything away—but we have this one giant set piece in the third hour that involved shutting down a major street in the warm months of Chicago. Getting that to come together was quite a feat.
Any fun behind-the-scenes facts you can share with fans?
We allocated a huge part of VFX budget to that set piece in "Chicago P.D." in order to make the street completely empty. We knew that we would get at least four cross streets cleared, but beyond that we knew we could take people and cars out digitally. In the end, we didn't have to remove anything—it was shocking. You can see probably 20 blocks of Chicago, and it's all thanks to our dedicated production team.
We semi-lovingly referred to the deadly bacteria as "a monster," and we created a character story for it. Who is it, does it have a sound, can you actually see it eating the flesh? We really dove into every facet of it.
The three-part crossover event begins on "Chicago Fire" where first responders encounter the disease. It then makes it way to the doctors of "Chicago Med" and concludes on "Chicago PD," where the source of the infection is finally identified.