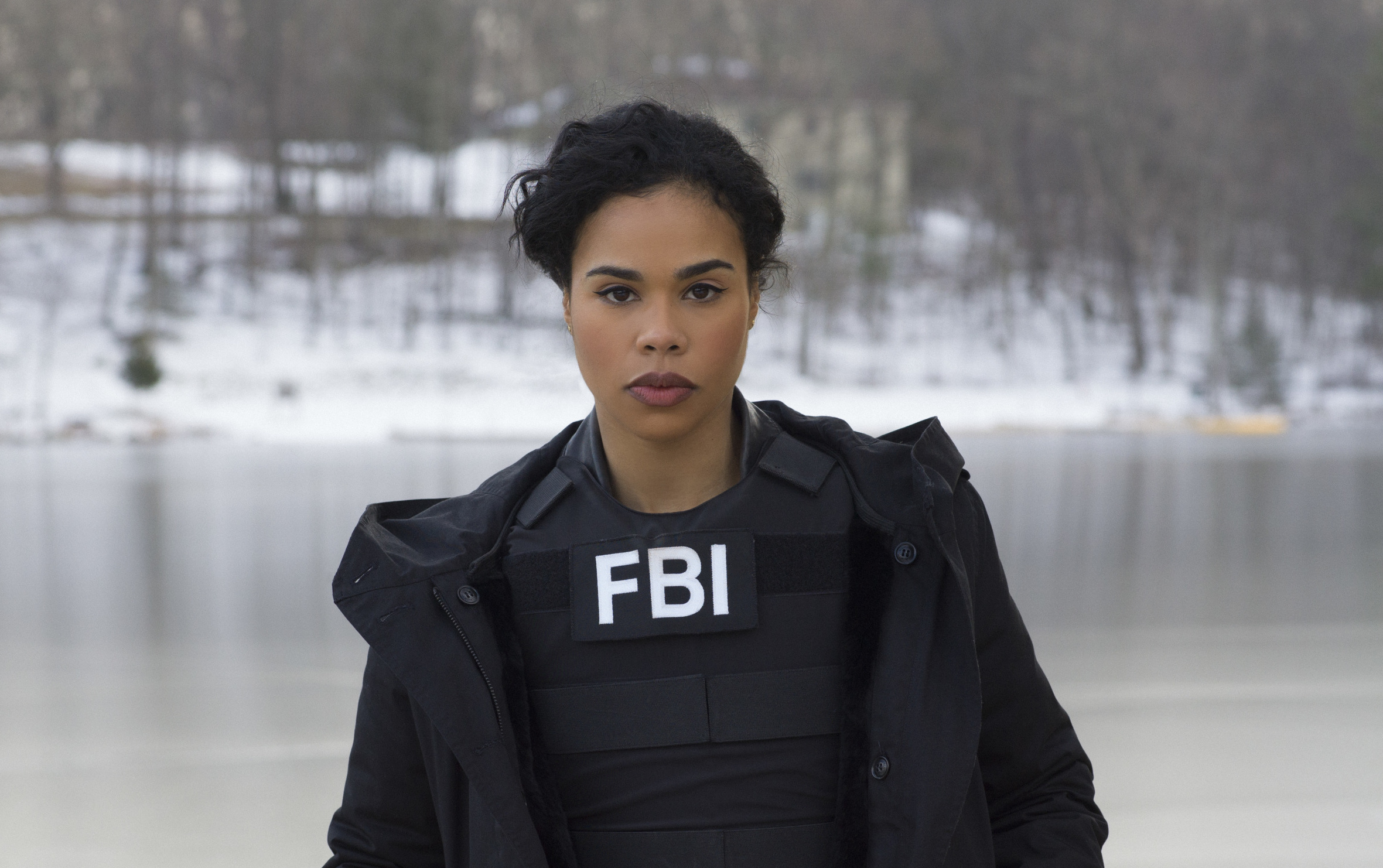 Spotlight: Roxy Sternberg
On FBI: Most Wanted, Roxy Sternberg plays Special Agent Sheryll Barnes. In real life, though, Roxy couldn't be more different from the hardcore FBI agent she plays onscreen. Sweet, outgoing, and quite funny, there's much more to the British-born actor than meets the eye. We sat down with Roxy to discuss her role, her background, and her hopes for the show's future.
Q: How did the opportunity to play Sheryll Barnes come about? 
A: Last pilot season, it was actually the first audition my manager sent me. I saw that it was a Dick Wolf project, which excited me immediately because he is the pinnacle of American drama— American television. I was very excited, got to tape, sent off, and here I am today. I was very lucky.
Q: Before shooting, how did you prepare for the role?
A: Before we started shooting, they provided us with some tactical training. I had never held a gun before. I had never played an FBI agent before, so that was all new to me. I learned how to hold the gun convincingly, and I learned how to shoot a gun. Aside from that, I looked up some Quantico training online. They have YouTube videos and clips and I looked at current and retired FBI agents just talking. 
Q: Did the way in which you played Sheryll Barnes develop further throughout the season?
A: I think so. I hope so. I think playing this character, I got to understand her more. I got more comfortable in her skin as it progressed. My hope is that it shows on camera. Also from working with such a great cast, from the pilot to the actual season, we worked together every day. I think it shows on camera. There's unity and familiarity. I think that the intimacy of the characters grew on camera as it did in real life. 
Q: We previously talked with Dani, the Most Wanted technical advisor. Can you tell us a bit about your relationship with her? How important has it been working with actual FBI agents?
A: Dani is a Godsend. She is amazing! I was so lucky to work with her. She is so hardworking and dedicated. She was so passionate about us doing a good job and I think she was happy with the way we portrayed FBI agents. I hope that we did it justice. She would not be shy to say, 'Listen Roxy, more tough. Hold the gun higher.' I want it to be as convincing as possible. I'm sure everyone else did as well. She is a wonderful human being and I feel very lucky to have worked with her and I hope it's the first of many. 
Ultimately we are making a TV show, so it's all about the drama, but It was important having someone who is actually in that world around. It's nice to know that there is someone behind it all saying that's exactly how it would be. 
Q: What has been the most fun FBI maneuver to learn? What has been the most difficult?
A: Like I said, I'd never held a gun before. Actually holding a gun and doing it convincingly was extremely empowering. Learning how to handcuff bad guys too. There were a few times where we had a stunt coordinator on set when we did our takedowns. Sometimes I would have the stunt coordinator show me how to bring the bad guy down, and I'd be very hands on and that really excited me. I think that was the most fun. I think that was also the most difficult because I've never done that before. There was a lot of coordination with the guns and with the handcuffs, being able to put one away and pull one out and also holding onto the fugitive. It was like choreography. 
Q: What is something you didn't know about the FBI that you learned by playing an agent?
A: I didn't know how hard they worked. They work bloody hard! And again, we are only shooting a TV show, we're just paying homage to it. These guys go out every day, they risk their lives, leaving their family, their loved ones. I learned how much we should respect what they do. 
Q: In the show, you have an American accent, but naturally, you speak with an English accent. How did you perfect your accent, and do you ever catch yourself jumping between the two dialects?
A: I had a dialect coach who helps me. On set there's so many accents. We've got an Australian, a Kiwi, a Canadian, a Brit, and an American. I just hope I gave the American accent justice. I think it helped that the majority of our crew was from America. We were family on the show. If anything sounded really terrible, someone would pop up and say, 'Yo, that's not quite right'. But luckily no one actually did come up to me. I was very grateful. But also, ever since I was a kid, I've watched American TV shows, and I've always put on the accent.
Q: This season we saw the first crossover between, FBI and FBI: Most Wanted. What was that experience like? 
A: That was great. We did the backdoor pilot, but it was lovely reuniting with Zeeko and some of the other actors that we worked with before, as well as meeting new ones. It was lovely getting a new energy on our set. I was also learning from these guys. They were well into their second season. They've been doing it for months and months. I learned a lot from them. It was exciting. These guys work so bloody hard. They have a lot of background actors, whereas we're mostly on the road. There's a real choreography to their show, weaving in and around all these background actors, and they do it so convincingly. It looks brilliant. It was quite challenging once we entered their world to work with such a huge team.
Q: The show depicts such serious and intense storylines. How do you disconnect at the end of the day?
A: I meditate daily, usually in the morning for my sanity. But I can't deny it. I did bring some of this stuff home. Not necessarily the darker storylines, though, I think that was there subconsciously, but also the exhaustion. It was really long hours, traveling, running around. It was such a joy, but also exhausting. When it came to the weekend, I did so much relaxing and hot yoga. Yoga kept me sane and grounded. 
I think it's also a matter of learning because this is the longest time I've ever worked on a project. Seven months. I think with time it will get easier and I will learn how to disconnect better. I was able to cope with it, so that's good. I'm here today to tell the tale and I have the most fun working with my other costars. 
Q: Do you have any favorite moments from set?
A: I do. I don't know what you call it in America. I've called it "corpsing," which is when you die in a scene, a.k.a. you move out of character and into yourself. But we have so many moments, we got on really well. We would laugh, and we would break character and pee ourselves laughing. Those were the moments that I stuck with me the most. We really were a family, and I miss everyone. We speak all the time. We've got an iMessage chat group.
Q: Did you always know you wanted to be an actor? How did you end up in this career?
A: Actually a funny story, now that we're self quarantining ourselves, my partner and I were going through some family videos that I got given for my birthday last year. I was literally acting since I was a kid. I always wanted to be either a presenter or a comedian. I got that bug from my father who trained to be an actor. I felt that bug and that frustration and that, just that passion, that fire for the performance. I decided to pursue it now I'm living my childhood dreams. I'm so lucky. Really bloody lucky. Actually. I pinch myself now and again.