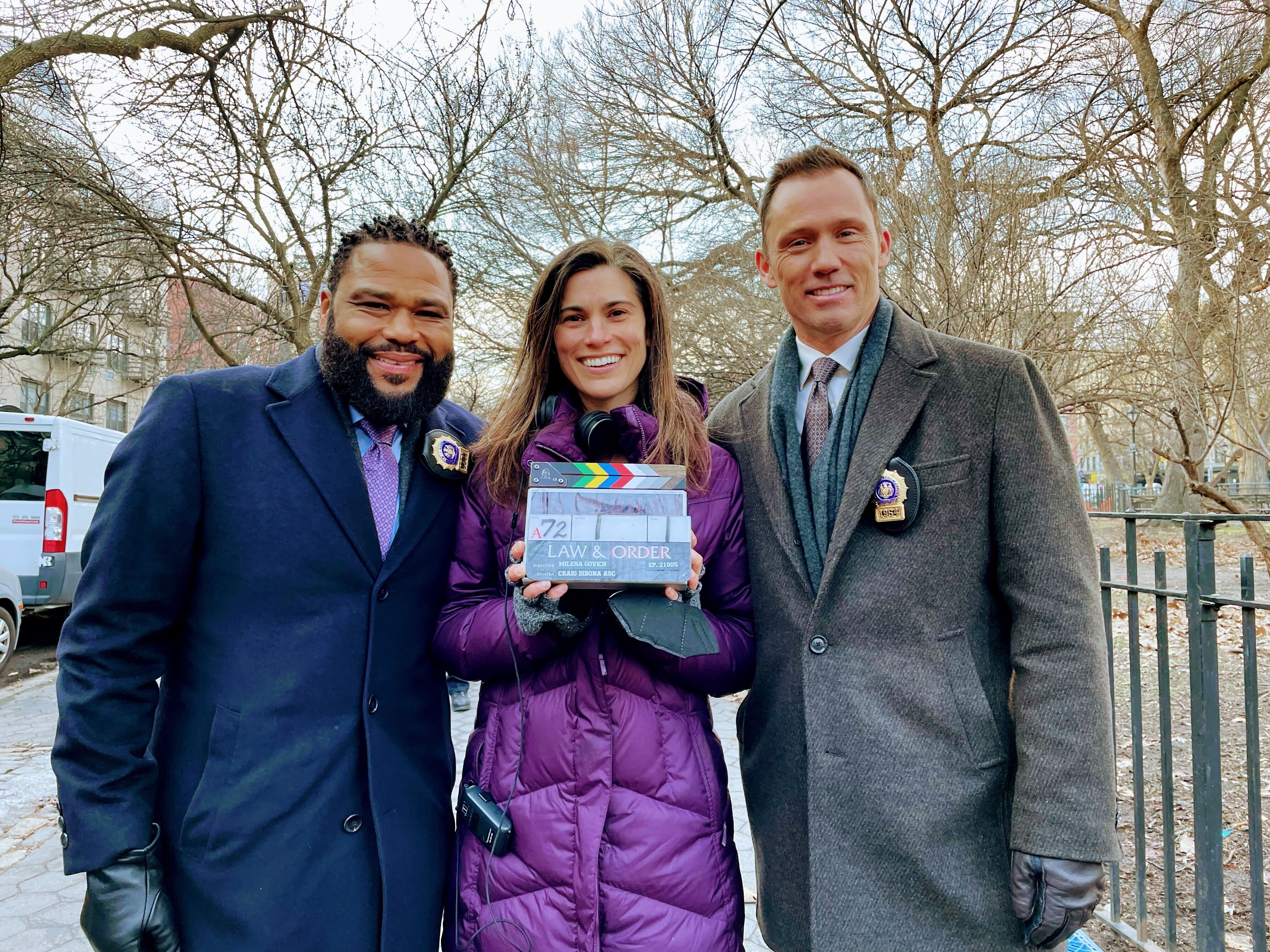 Spotlight: Milena Govich
Season 21 of Law & Order saw many familiar faces return to the screen. But the return of the series also reunited cast and crew offscreen. In a full-circle moment, Milena Govich, who originally portrayed Nina Cassady in Law & Order Season 17, returned to the series to direct episode 2103, "Filtered Life." We sat down with her to discuss her career within the Wolf universe, ranging from Law & Order actor to director and everything in between.
Q: Wolf Entertainment fans may know you best as Nina Cassady from Law & Order, but that was not your first venture with Wolf Entertainment. Can you tell us a bit about how you first got involved with Wolf?
A: I auditioned for a Dick Wolf show called Conviction, which was about young lawyers in the District Attorney's office in New York.
It was the first show created by Rick Eid. Now, Rick is the showrunner of the original Law & Order, the original FBI, and Chicago PD. He and I started right around the same time, so we each have a long history with Wolf. It's been great to cross paths with him a number of times.
The day after it was announced that Conviction was not going to return, Dick called and offered me Law & Order. This was Season 17 and there'd never been a female detective. Of course Epatha Merkerson is an icon of the show, but she played a Lieutenant. Nina would be one of the boots-on-the-ground detectives. I couldn't say no to that, obviously! I joined the cast of the original Law & Order series in Season 17 and it was remarkable– just to be part of that legacy, it's such an honor.
Q: How did you end up landing the role of Nina Cassady in Law & Order?
A: Believe it or not, I didn't go through an audition process. I had just done 13 episodes for Wolf on Conviction, so they got to know me and they got to know my work. Usually, the character they're casting is already created and it's a matter of finding someone to bring that character to life. In this case, they wanted me on the show and we figured out what the character would be together. Dick had a really specific idea about the backstory.
Nina Cassady was based on a real New York city cop. This woman was off-duty, having her hair done at a beauty parlor in Queens when the place got robbed. People came in with guns and she essentially took down the robbers herself, off-duty. In Law & Order, they used that as a jumping off point for my character. Beyond that, I worked closely with the writers to come up with her back story. They really liked the idea of me being a hot head on the show, which I think comes across in a number of the episodes.
Q: When did you decide to move into directing?
A: I found myself really craving more of a challenge. I wanted to have more influence in the creative process. It seems counterintuitive when the actors are the ones that viewers see every week, right?
You might surmise that the actors have a lot of control, a lot of power. That's not necessarily the case. Actors are sometimes the last people invited to the party. So I decided it was time to learn to direct. I approached the network I was working for at the time, and asked to start shadowing. They were thankfully very supportive. I had a female showrunner who loved the idea of me learning to direct. I sort of created my own film school on the set of this show. Then, I took all the things that I had learned during that shadowing process and I made my first short film. When that got a lot of play at festivals, I landed at The AFI Directing Workshop for Women. That's where I really fell in love with directing– it's an incredible program and it changed my life.
I still love acting. But, I find directing fulfilling in a much more all-encompassing way. After making another short film that premiered at South By Southwest, I took those work samples and re-approached many of the television producers I worked for in the past.
Peter Janowski at Wolf very kindly took a meeting with me. Since my degree is pre-med from college, I sat down with Peter and I said,"how many directors have been series regulars and also have a pre-med degree? I think you should let me direct Chicago Med." He said, "Okay." I give him so much credit and I'm so grateful for the opportunities Wolf continues to give me. So many of my firsts were with Wolf and I just can't express my gratitude. That's how my directing career started, on Chicago Med.
Q: You recently directed an episode of Law & Order in Season 21 titled "Filtered Life." What was that experience like? Was it a full-circle moment returning to the Law & Order courtroom?
A: It was totally bizarre to come back and direct Law & Order after 15 years. It was wonderful. It was crazy. It was bizarre. It was terrifying. It was thrilling. It was all the things. For starters, it was a gift to be reunited with Sam Waterston and Jeffrey Donovan, who guest starred on the original show. I'd also worked with Anthony on a different show before he was on Law & Order.
The strangest thing was the set because they recreated it from exact blueprints of the original's. Every time I would walk onto the stages, especially the precinct set (where I spent most of my time when I was on the show), it would take me a minute to get my bearings. I was flooded with memories. I would look over in one direction and think, "oh my God, there used to be a copy machine right there. Where's the copy machine?"
I had to get over that little hurdle every time I would step on the stage, but then, you're in it and it's a new show and a new dynamic with great actors. It was a lot of fun to explore the ways that the show was new, while also embracing some of the elements from the original. I found that to be the most exciting thing of all. That, creatively, was a mind blowing and wonderful full circle.
Q: That episode guest starred your aunt, Milica Govich, and you've mentioned she inspired you to start acting. Can you tell us about what it was like to work alongside her?
A: Oh, it was an absolute joy to work with her! She's an extraordinary actor. I felt so fortunate to have her in the episode. She has been a performer her whole life, much like most of my family. When I was a child, I just watched in wonder, in awe, as she went from Broadway shows to national tours to feature films and television series. When I was young, she was the one of the people in my life that I could look to– making it as a performer coming from a small town in Oklahoma. She helped me in innumerable ways as I was starting out. Having her on set as the trial judge was definitely another full circle element!
Q: How does approaching an episode as a director differ from approaching it as an actor?
A: There are a lot of similarities. When people say, 'oh, do you miss acting?' I say, 'well, no, because as a director, I basically get to do all the parts.' So, in that way, there's a very similar lane. As a director, it's my job to dig into the story and immerse myself and feel the journeys of all of these characters. When I come to stage to give the actors movement and blocking in the scenes, it still very much comes from an emotional place and a point of character. I'm always looking to dig deep into each character's point of view. And then that helps me make supportive decisions.
The way that it's different is that there's a whole big basket of elements that you're in charge of as a director that are not within your purview as an actor– which is one of the reasons why I wanted to become a director in the first place. You're dealing with every single production element. The planning, the logistics, all become very, very important because you're also in charge of executing it on time and on budget. That's not always easy.
Q: What advice would you give someone aspiring to work behind the camera?
A: Take a chance on yourself and make your goals known. Tell everybody you meet and don't say, "I hope" or "I wish" or "wouldn't it be great if…" Start saying "I'm going to" and you will be amazed at the people that come out to support. You'll never make those inroad connections if you keep goals to yourself. It can be very scary. I know firsthand about that, but make it known to the universe where you want to go and you'll be surprised at what doors open.