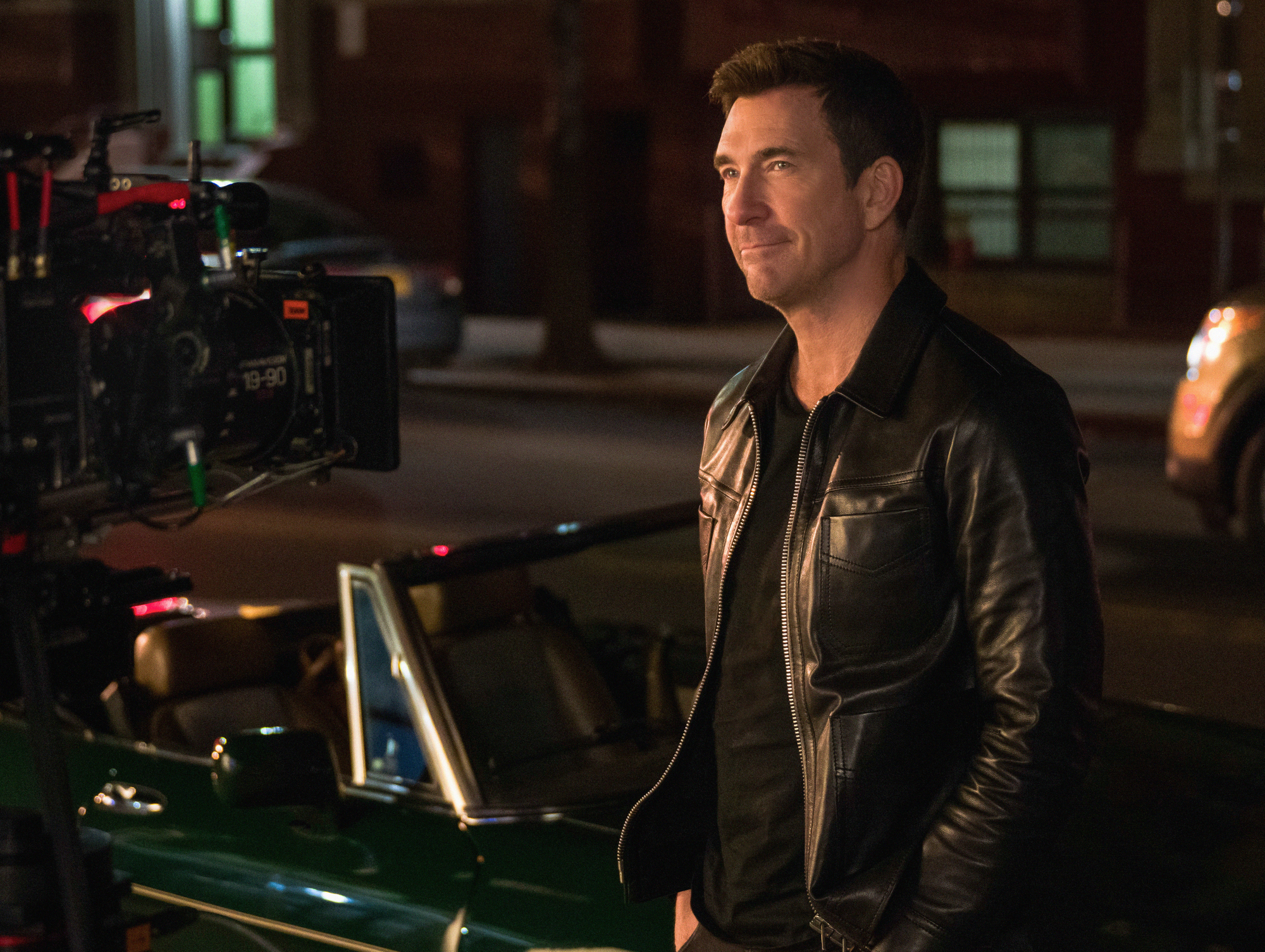 Spotlight: Dylan McDermott
Wolf fans may know actor Dylan McDermott from his role as the nefarious mob boss in Law & Order: Organized Crime. But Dylan, whose work spans genres and has earned him multiple awards, including a Golden Globe, is about to step into a role much different than his last. Now, Dylan is joining The FBI as the head of the elite Fugitive Task Force.
Before his first episode of FBI: Most Wanted premieres, we chatted with the actor about how he tackled the two very opposite characters and what it's like to transition from the villain to the hero.
Q: Can you tell us a bit about how you first got involved with Wolf Entertainment?
A: I heard about the spinoff of Organized Crime, and I was immediately interested in Wheatley. I was dying to play him. I knew exactly who he was, and I was so delighted when I read the script. It was everything I ever dreamed. I was just like, 'Oh man, this is perfect.' He's got style, he's woke, he's from New York, he's a gangster, and he's smart. Everything just lined up perfectly. I had it all in my head already. I was just so excited to use all the different facets of my own life and put them into Wheatley.
Q: What made you want to take on the role of Richard Wheatley on Law & Order: Organized Crime?
A: There was just something about Richard that I understood. His relationship with his father and the shame that he felt from being called names as a kid. I was really interested in that upbringing. What was the snap that caused him to become a psychopath? I was really interested in his psychology. Truly, just obsessed with this guy. Everything about him made me obsessed. I was only supposed to do eight episodes. When they asked me to do another eight, I was really happy. I really wasn't done with Richard– or he wasn't done with me, either way.
Q: The Associated Press wrote an article recently with the headline, 'Dylan McDermott reinvents modern gangster on Law & Order.' In the piece, readers discover that your personal upbringing informed much of Wheatley's character. Can you expand on those nuances?
A: As an actor, even as a child, I was studying people. I was always fascinated by people's behavior. Before I knew what 'behavior' meant. Growing up around criminals, near the gangster world, was certainly very real.
There's a difference between acting and knowing. When you know something it's in your body– it's in every breath you take and that's very different from acting a role. You're not searching, it's already there. That's why I responded to Richard, and I think why the audience did too.
Q: When did you find out you had been cast in FBI: Most Wanted?
A: It was recently! I'd just wrapped Organized Crime, and with only two weeks in between, I was on the set of FBI: Most Wanted. When I got the call, I immediately said, 'yes.' From there, the timeline was very quick.
Q: What has it been like to play such distinctly opposite characters in two separate Wolf series, Law & Order: Organized Crime and FBI: Most Wanted?
A: I enjoy it! I contributed a lot to creating Remy's backstory. That was huge. Most of the time, you get cast and make the best of it. I was able to talk to Dick [Wolf] and David Hudgins to figure out, very specifically, what was needed to sustain me over time as an actor on the show. Going back to the psychology of a character, there's a reason Remy Scott does what he does. It's not just because he's a cop, it's because there's a need in him to do this work. I thought, 'Oh man, that's gonna fuel me.' However long I do this show, the backstory will keep me rooted and anchored in this character.
Q: Fans really identify you as Richard Wheatley. What do you want them to know about your character in FBI: Most Wanted?
A: Most importantly, that he's a good guy. I think people say, 'Dylan played a bad guy, now he's a good guy. How are we supposed to accept him as a good guy?' I love that because that's my job– to earn their acceptance. Remy's introduced immediately, in the very first episode. That's fantastic because we get to know so much about him. I'm interested to see how people will respond. Especially because I'm adding my own stuff, as I did in Organized Crime and in Hollywood. That's why I was so eager to say yes. Wolf Entertainment allows me to ad-lib, and that's been a new way of working for me.
Q: You are joining FBI: Most Wanted in the middle of the season. What was that experience like?
A: It's always interesting. Having done this for a while now, I always enjoy walking into new experiences. It's like walking into a minefield. It's so dangerous. But at the same time, you have to be careful and watchful of every move. That's the most exciting thing for me because it gets me up on my game. I have to be so present and so alive. The thrill of showing up, walking in, and taking over as a new character in the middle of a season? I still love that part of acting.
Q: What is more fun to play: a villain or a hero?
A: Well, each has the other inside of them. If you're playing a villain, you're really looking for the hero. If you're playing a hero, you're looking for the villain. I think that we're all very complex– nobody's just a hero and nobody's just a villain. People are not just one thing. Everything is justified in people's minds. What they do in this life…it's all justified. Nobody says, 'oh, I'm a bad guy. I'm a villain.' That's always interesting to me. What makes a person, a person? I think that's the puzzle. If life is math, that's the problem I have to solve with each and every character.
Catch FBI: Most Wanted Tuesdays at 10/9c on CBS.