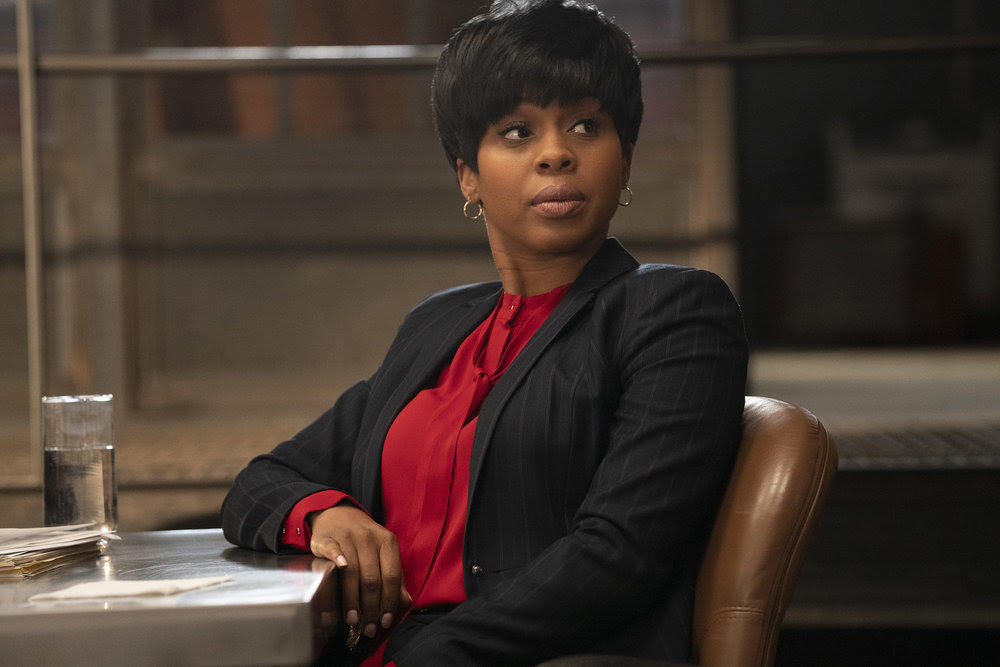 Spotlight: Danielle Moné Truitt
You may know Danielle Moné Truitt from her portrayal of Elliot Stabler's no-nonsense boss, Sergeant Ayanna Bell, but her role on Law & Order: Organized Crime was not her first foray into the Wolf Universe. We chatted with the actress to learn more about her background, how she first became involved with the Wolf team, and how she landed the coveted part.
Q: Tell us a little about your background in theater and how that's shaped your career.
A: My first introduction to theater was when I was in sixth grade. I auditioned for Beauty and the Beast and got the role of Belle. Growing up, I was known as a singer and a dancer. When I got to high school, I auditioned for Bye Bye Birdie my junior year. I was cast as Kenton McAfee, but I was also a cheerleader and a basketball player. I did everything in high school and I didn't understand how much commitment theater takes, so I passed up on the play and revisited theater when I went to college at Sacramento State University. About two weeks into class, my professor pulled me aside and asked if I was a theater major. I was majoring in Psychology, changed my major to theater, thanks to my professor's cajoling, and just kind of fell in love with it. I really loved being directed, going through the whole process, and seeing how everything came to life. I loved the energy between the audience and the performers on stage.
Q: How did you end up in the role of Sergeant Ayanna Bell? Can you tell us about the auditioning process?
It seems like so long ago, but in January of this year, my manager called and said that Jonathan Strauss, the casting director, wanted to present me to the producers for the role of Sergeant Ayanna Bell. I was completely caught off guard. I had auditioned for Law & Order: Organized Crime back in September of 2020 and never heard anything back, but I was cast as Dr. Angela Douglas on Chicago Med and shot an episode. I put together a bunch of clips of mine, sent them to Jonathan, and by the next day he called me and said Dick Wolf signed off on me. It all happened so quickly, and I didn't know how I was going to fit in. I didn't know if I was going to be believable as Stabler's boss, and I was nervous about a lot of things. But my friends and family reminded me that it was my role, and all I had to do was step into it.
Q: You mentioned that you guest starred in an episode of Chicago Med. How did that experience set you up for a larger role in the Wolf Universe?
A: Well, it's the same Dick Wolf world, which is a beast in itself. I actually loved the role that I played on that show. I think being on Chicago Med made things feel less foreign. When I came to work the first day on Law & Order: Organized Crime, I was a little bit familiar with it, so that was a good thing. It also made me feel like part of the reason they cast me for the role is because they saw what I did on Chicago Med, which gave me that extra boost of confidence.
Q: Were you already a Law & Order fan before joining Organized Crime?
A: Honestly, no. I had watched it before, but I wasn't a fan that watched it all the time and was keeping up with the stories. I feel like you can't be between the ages of 20 and 60 and not know what Law & Order is. There were a lot of things I had to learn and the fans have been really great at catching me up and keeping me in the loop.
Q: Speaking of the fans, was it challenging to come into a new series that already had a pre-existing fan base?
A: I don't think it was challenging only because they really embraced me as soon as that first episode aired. We're in a new day and age now, and I think people love the fact that they can see a woman kind of bossing Stabler around and laying down the law. I think the fans immediately fell in love with the fact that I'm a Black and LGBTQ+ woman on the show. Anytime you're on a new television show that has a fan base, it can be a little nerve wracking until it actually airs. Then it's out there in the world, and you can kind of relax a little bit more.
Q: Did you have to do any research into what it is like to be a police officer in today's age? If so, can you explain?
A: In my career as an actor, as far as television is concerned, almost all the roles I've played have been characters that were in law enforcement. My first lead role, I was a detective, a police officer turned private detective, and then on Deputy I was a deputy, so I've actually had a lot of experience with playing law enforcement and working with tech advisers on the nuances of the job. With that being said, my main focus with Bell is just to make sure that I'm telling her story as an actual human being, outside of what she does for a living. That's where the fun is. She could be a veterinarian, and it wouldn't matter to me.
Q: Can you tease anything about what we can expect from Sergeant Bell this season?
A: Well, I have a joke on set. I'm always playing around with directors and writers and stuff, and I'm always like, 'Why is everybody messing with Bell? Leave her alone.' Everybody is testing her. She's navigating a lot of stressors this season, which makes it fun for me as an actress to play it.
Q: Between filming and being a mother of two, how do you balance your work life with your
personal one?
A: It's been a bit challenging for me. I've never been away from my boys for this long in their whole lives. I'm in LA right now because any weekend I can get off, I come home to be with them and spend time with them. Whenever they're on break from school, the most important thing to me is to not disrupt their normal lives because things in my life change a lot depending on what projects I'm working on. I think that's been the most challenging part for me, but I'm grateful because what I do gives me the opportunity to give them a better life, and at the end of the day, being a mother is the greatest role I'll ever play.
Q: Do you have any advice for struggling actors?
A: I actually have a lot of advice for struggling actors, because I've been a struggling actor and I also have a thing that I do called actors empowerment, where I coach and help artists to be able to navigate the highs and lows of the industry because it's tough, but I will say this: Always lead with love. I think love has to be at the core of why you're doing what you're doing in your career, your relationships, and every aspect of your life. If you're doing it out of fear, or desperation, which is basically another form of fear, it makes the whole process one that is not fun. The discouragement is going to come, the rejection is going to come, but if you're connected by love for what you do, and practice gratitude, then in time, I truly believe what you're working towards will happen for you. I keep a gratitude journal, and in those tough times, when there's disappointment, I try to remember what I am grateful for and what I do have because when you operate from a place of gratitude, it only brings more of what you want into your life.