Spotlight: Dani Messineo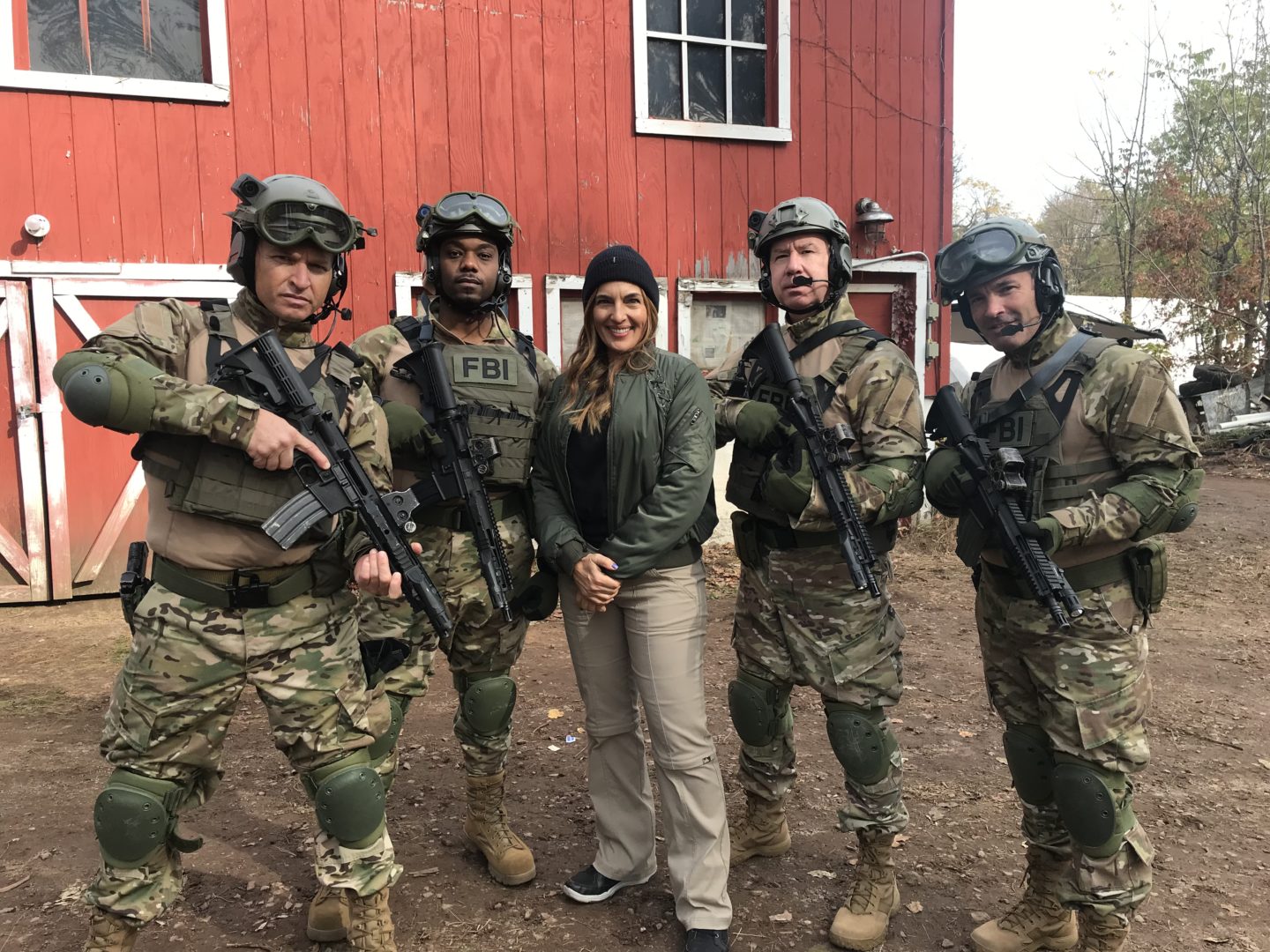 To ensure every scene is written and performed with accuracy, from holding a weapon to executing a search and seizure, we employ on-set advisors for each of our television series to provide the insight of a true seasoned professional. On FBI: Most Wanted that role is filled by former FBI agent Dani Messineo. We spoke with Dani about her real-life experience and how it translates to the screen.
Q: How did you get involved with Wolf Entertainment?
A: I got the lead for the position from a former colleague of mine, we worked together as FBI agents in the bureau. He is the current FBI technical advisor on the current Dick Wolf production FBI. When they decided to do a spinoff, he reached out to me and said they were looking for someone and asked if I would be interested. I had retired from the bureau in January of 2019 and started on the show in the summer, so it was perfect timing for me.
Q: What division of the FBI did you work within? 
A: I was an agent for 24 years in the New York division. I worked in violent crimes and child exploitation. Ironically, three years before I retired from the FBI, Dick Wolf made a documentary on the New York office, called Inside the FBI, and I was featured in the segment they did on the child exploitation squad. 
Q: Tell us a bit about your role on the set of FBI: Most Wanted.
A: So having no experience in TV or the entertainment industry except for the brief involvement with the documentary, I had no idea what to expect. I was told they wanted the show to be as realistic as possible, and that they would need help with certain tactical things, like how to hold a gun or enter a room and put handcuffs on a bad guy.
I'm involved with so many different aspects, from helping the actors with certain tactical details, or even suggesting how you might feel if something like this happened, or working with the prop department in helping them find a realistic vest or handgun. I also work with the writers and give them background on things like violations. I feel very honored that the writers reach out to me frequently and trust my input. It's wonderful because I feel like I can help on so many different levels and it's not just one part of the show I'm involved with. Every day that I go to set, I learn something new. I'm so lucky and honored to be a part of this.
Q: Has there been an FBI maneuver that was challenging to teach the cast?
A: Initially it was to be comfortable and confident handling weapons. But that was only in the beginning. 
When we first started, I had to teach the cast all the small things about being an FBI agent that you never really think about. For example, body posture is something most people don't consider. When clearing out the room, our cast's posture was off, and getting them comfortable standing correctly took some work.
Our cast is very coordinated and enthusiastic; they want to look as realistic as possible.
Q: Can you share any fun or interesting stories from set?
A: When we first started and a scene had an arrest, the cast would not have their finger on the trigger of the gun. When I asked why, the response was 'you're not supposed to.' I was like 'Who told you that?!' They were basing their knowledge on what they had seen on TV.  For an FBI agent, if your gun is out your finger is on the trigger. That might be how it is on other TV shows or for traditional police officers, but that's not how FBI agents operate. I think it's those little things that set our show apart from others.
Q: How did you begin your career with the FBI?
A: I had always had an interest in law enforcement ever since I was a little girl. I came from a traditional family where my dad wanted me to get a business degree and work in an office, and I just knew there was something more that I was meant to do. When I was in college, I started doing research about different law enforcement exams. I met a woman at one local police department exam whose husband was an agent, and she said she could hook me up with him if I was interested in applying. Back then there was no Internet, and everything you did was either through word of mouth or through a local newspaper, so it was really hard to find out how to take on these different tasks.
Q: What was the best part of being an FBI agent?
A: There was not one day that I went to work where I wasn't completely satisfied or felt like I had given something back, as far as putting bad people in jail. I know it sounds like Miss America, but the reason why I wanted to be an agent was because I wanted to make a difference, and I definitely felt on a daily basis that I did, even if it was just the littlest task. I always felt that I was contributing to protecting this country and especially making it safer for my own community, my daughter… that was the best part of the job.
Q: In all of your years in law enforcement, did you ever see yourself working in television?
A: I never knew that a technical advisor position existed. So I would say my interest peaked when I became involved with the Dick Wolf documentary. Working with the crew and learning about what they did was so fascinating to me. I still can't believe that I do this now; it's just mind blowing.
Q: What is the best part about making the switch from working in law enforcement to television?
A: Learning about a whole other world. And honestly, one of my favorite parts is working with over a hundred different people on set, talking to them about what they do, hearing their backgrounds, and then being able to sit behind the director and the director of photography and listen and observe. I feel like I have the most incredible film education in the entire world.
Q: What do your former colleagues from the bureau think about your new position?
A: They think that it's perfect for me. They love to hear the stories. I have a group of female FBI agents that are retired, and we meet once a month to go to dinner. My friends from the bureau will be my friends for the rest of my life. Those relationships that you have with your agent friends are different from other relationships because these are the people whom you've gone through really horrible or dangerous situations with. It's a different level of friendship. It's really special.