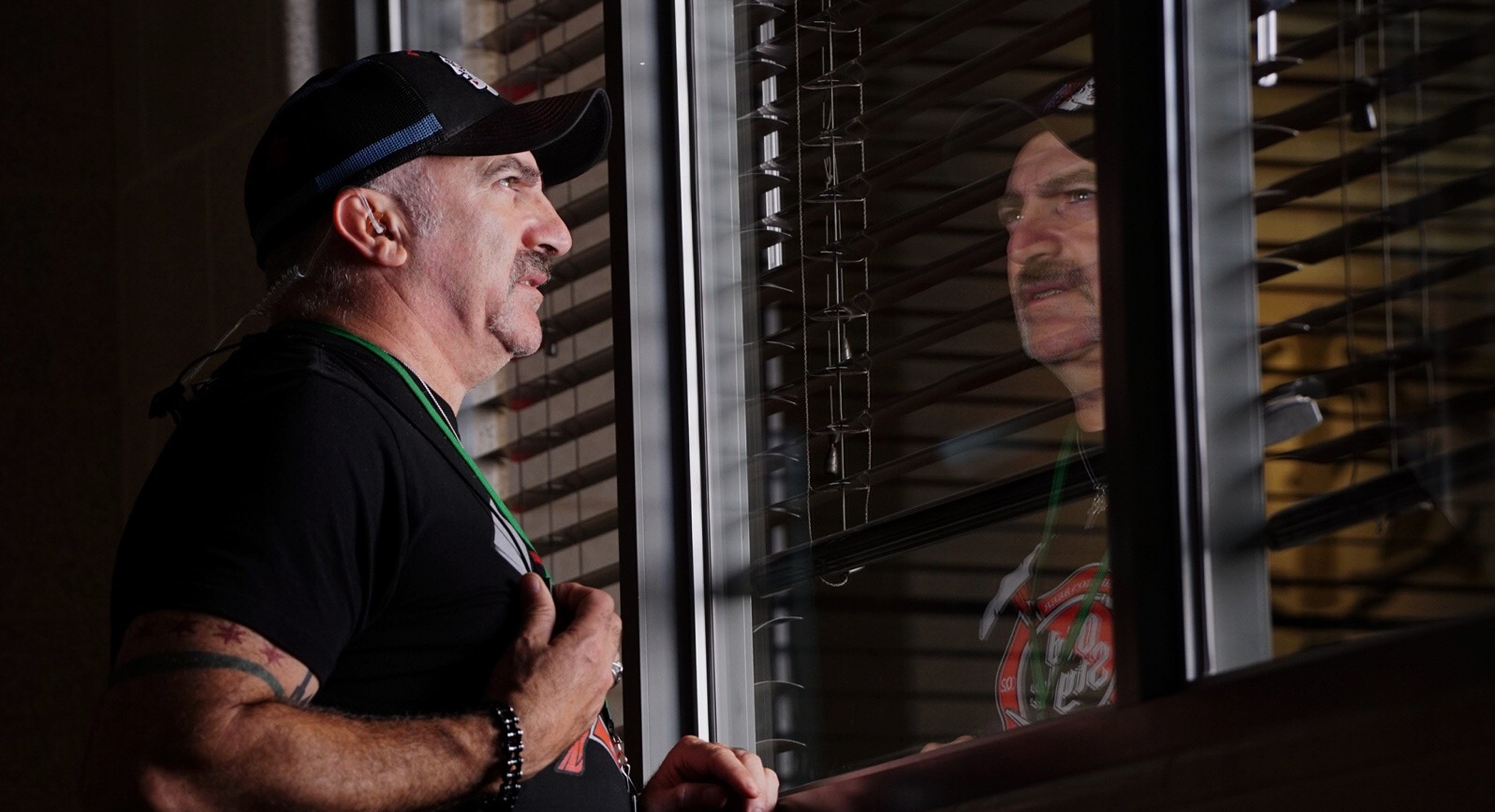 Spotlight: Anthony Lullo
Across the Wolf universe, the actors are the faces our viewers recognize best, but we wouldn't be able to bring you your favorite shows without the crew members who work hard behind the scenes like Chicago Fire Gaffer and frequent Director of Photography Anthony Lullo. With 35 years in the entertainment industry, Anthony brings invaluable expertise and passion for the craft of electric and lighting to set every day. We chatted with Anthony about his career, his advice for those getting into the business, and how working with Wolf Entertainment has changed his life.
Q: What is your role on Chicago Fire? 
A: I am the Gaffer, also known as the Chief Lighting Technician. What that means is that I provide electricity to the set of the show, and I handle all lighting under the supervision of the Director of Photography, aka the DP. On Chicago Fire, that's Will Eichler.
Q: What does that job look like on a typical day on set?
A: First, my cable rigging crew arrives on set ahead of me and scouts the location to get a lay of the land. When I arrive, we'll lay out a run of cables and set up our generators to distribute power, making sure it stays out of the cast and crew's way. I couldn't get it done without my Best Boy electric, Kevin Wisor — he always assists me and has my back. Next, we watch rehearsal, mark down where the actors stand and move, and start to plot our lighting setup by choosing which angles we want to have light coming from and noting where we can place our lights while keeping them hidden. The grip department, including Key Grip Mike Lewis, is a big part of this process, since they are in charge of the cameras. Our goal is to keep it believable, so you don't see the equipment, and also make the scene look softer and prettier. Once you start lighting the first scene, the rest of the day plays out naturally. You change the directions of the lights with the directions with the cameras. As scenes go on, we tweak our setup to make it look as good as we can.  It's a lot of staying on your toes and watching the director, the DP, and the actors do their thing. Chicago Fire specifically is a great show to be on in that regard — I'm never bored here.
Q: How did you get into your field? 
A: I started out as a film watcher — my mom was a big film person and would take us to see movies as kids. I grew up in Chicago, which you never would think is a film town, but it was! I started training in 1986, did my apprenticeship, and then in 1989 I got my union card and went out into the field. After the first few times being on a movie set, I was hooked. I love the creativity of it, and I like that the work is different every day. 
Q: How did you end up working on Chicago Fire?
A: When we first heard that Chicago Fire was coming to our city to shoot the pilot 12 years ago, everyone in my union was trying to get on the show. I just so happened to have worked with the producers on Prison Break, and a couple of them were also involved with Chicago Fire, like Matt Olmsted. I didn't chase the job, because I wanted to wait until they hired a DP first. They hired Lisa Wiegand for that role and reached out to me after hearing my name from producers. 12 years later here I am, just blown away by the stuff we've done. I have been here since day one, from the pilot until now. Working with Wolf has helped me hone my skills: They give us everything we need to do a good job. We have the opportunity to get better every day and that truly changed my life. Not many TV shows go past 10 seasons and when they do, they're special.
Q: You have also served as DP on a few episodes. How did you get into that?
A: I've had the chance to be DP on a few episodes of Chicago Fire — I usually fill in for Will when he scouts or has to do a prep day with a new director. It's a chance for me to upgrade from just being a gaffer, since switching between roles gives me a different perspective. It really has helped me become a well-rounded studio mechanic. Working as a DP on Chicago Fire really made me appreciate the director too. When you're the director of photography, you work really closely with the director, and you get to dive into the script and the story. 
Q: How are these roles connected? How do they differ?
A: A DP doesn't make a move without his gaffer. Those two roles are in contact all day on set, so they're very connected. At the same time, they're very different jobs. A DP's job is a lot more complicated because you're not just dealing with the electric department: you're dealing with props, set dressing, hair and makeup, liasing with the director, etc. My work as a gaffer definitely helps me in that role though, and vice versa.
Q: What advice do you have for someone who wants to get into boots-on-the ground production work?
A: A while back, a couple of our producers started an organization called the CineCares Foundation, which gives kids of color a chance to learn about and work in the film business through apprenticeships in everything from props to electric. Having more women and people of color on set is something that the film business has been missing, and it's great that that's changing. I get to talk to these kids, and I always tell them that you can do it if you put your mind to it — I'm living proof of that. If you want it, you just have to go for it. It's all about diligence, and that's something I try to teach the kids. If you want to be the best electrician or gaffer, you have to do your diligence and you have to follow through. If something doesn't seem right, you change it, you make it better. I'm passionate about this business — I want to leave the industry better than I found it.
Q: Do you have a favorite moment from set you can share?
A: My favorite moment is from the first season, in the episode "Viral," directed by Michael Brandt. There's a moment in the turnout room, which is the place where all the firemen put on their jackets and their boots and equipment, where Joe Cruz (Joe Minoso) and Randall McHolland (Christian Stolte) talk with one another. Cruz had previously encountered a gang member in a fire who was trying to compromise Cruz's brother and pull him into his gang. To protect his brother, Cruz left that man in the fire, and he died. The guilt of that is just burning in him, because these heroes on the show are dedicated to saving lives — that's all that matters to them. But Joe did the opposite: He took a life. So in the turnout room, Cruz tells McHolland about this, and it plays out almost like a confessional booth. The two men never look each other in the face, but Cruz tells him his sin — it was a super powerful moment to be on set for. Michael Brandt really brought it to life.