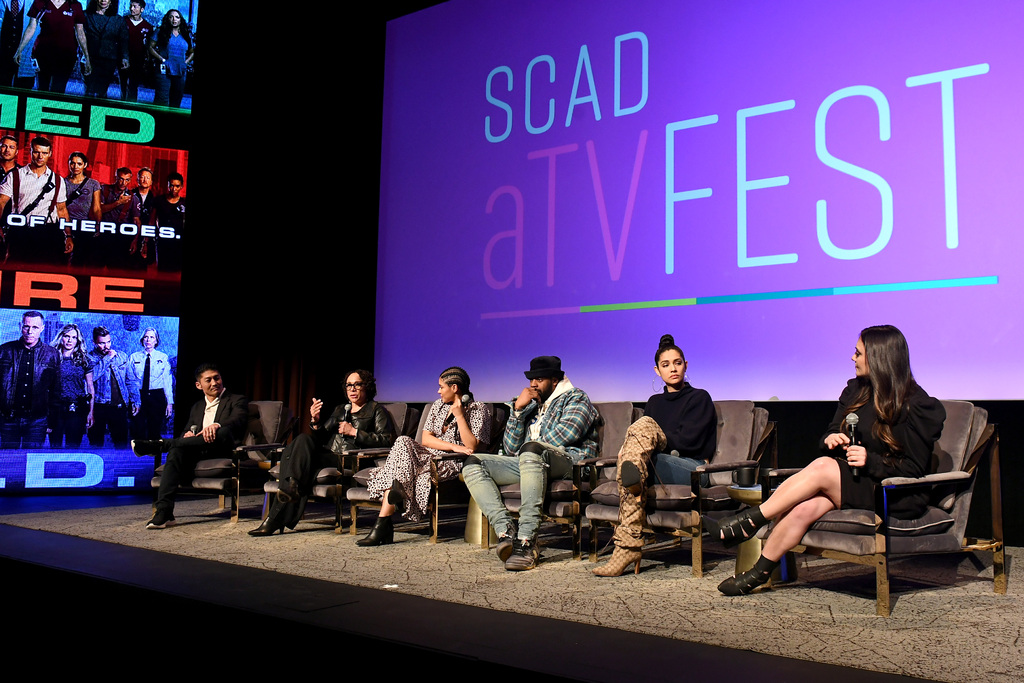 One Chicago Takes the Stage at SCAD aTV Festival
Members from our One Chicago family took to the stage this past weekend in Atlanta, for a panel discussion hosted by the 8th annual SCAD aTV Festival. The television and media-focused portion of the festival celebrated leading design, trends, creativity, and innovation on the small screen and on the web.
The panel, which was titled The Windy City Trifecta: Dick Wolf's Chicago, featured Chicago Med actors Brian Tee and S. Epatha Merkerson, Chicago Fire actor Miranda Rae Mayo, and Chicago P.D. actors LaRoyce Hawkins and Lisseth Chavez.
Throughout the panel discussion, moderated by US Weekly Senior Entertainment Editor Emily Longetta, the actors answered questions about their personal experiences as part of the One Chicago family, which shows they like crossing over to (Med for Hawkins, Fire for Merkerson), managing the frigid Chicago weather, and early jobs in the entertainment industry.
Makerson opened the talk with an insightful look into the One Chicago community. "We connected so quickly and so beautifully. I consider these people my family. That goes over to P.D. and Fire as well, because we're all in Chicago. Dick has a great way of combining groups of people."
Tee echoed the sentiment. "What makes our shows really work is the chemistry of the ensemble."
Even without the presence of the full casts, the connection between the actors was evident on stage. Together, they listened, laughed, answered fan questions, shared stories from set, and even revealed a few secrets about what viewers can expect in future episodes.
The panel concluded with the cast's advice to the audience, with Mayo expressing her wish for fans to follow their own passions. "Vulnerability has changed my life, and I really encourage anybody who feels excited to try something new, but just doesn't know where it's going, to just follow that. Allow yourself to feel vulnerable. Especially if it sets your heart on fire."