How Some Of The Most Memorable — And Sometimes Gruesome — Effects From Chicago Fire Were Created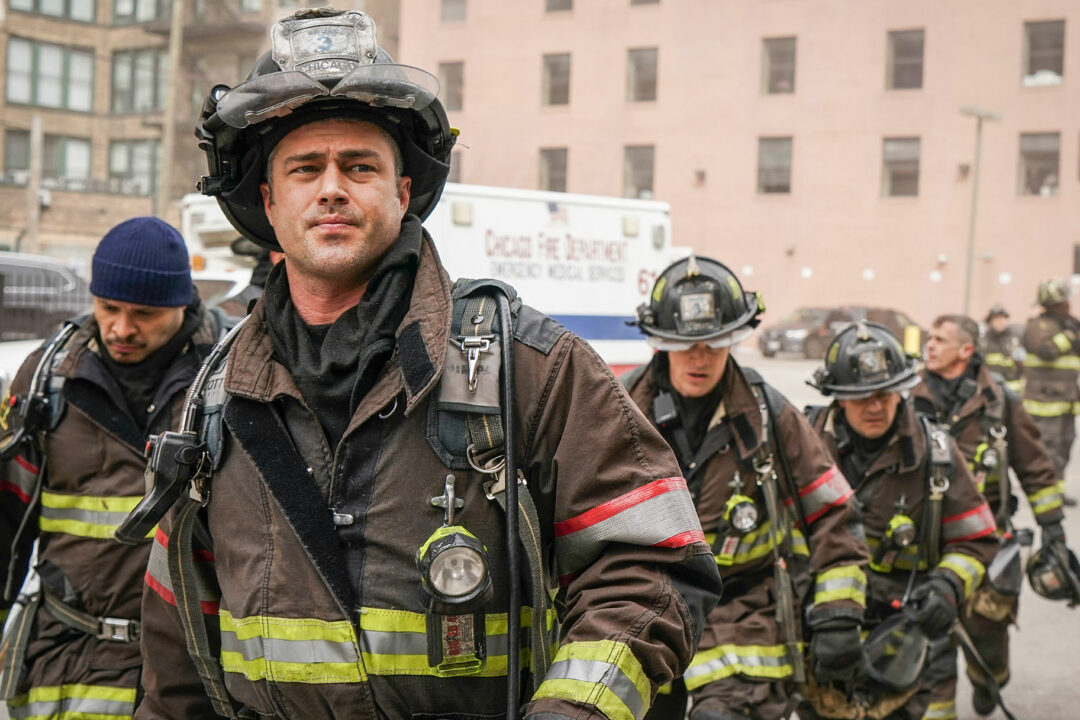 Between burns, blood, and even bees, the first responders on Chicago Fire are always busy — and so are the professionals behind the scenes that safely make all of these scarily realistic scenarios come to life through the expert use of special effects makeup. Here, we dive into how the Chicago Fire FX department, led by FX Makeup Department Head Christopher Payne, created some of the injuries and incidents seen on the show — just in time for Halloween. Warning: graphic images ahead. 
 

View this post on Instagram

 
Father Anthony's burn 
Seen in Season 10 Episode 5 "Two Hundred"
Prosthetics of all shapes and sizes are a major part of the job in the FX department. "A lot of my job is gluing stuff onto people," Chris jokes, but it's a little more involved than he makes it sound. He and his team regularly use prosthetics on set, and making them is a detailed process that includes casting, molding, sculpting, painting, and detailing material like silicone to create a prosthetic that's perfectly fitted for that person, as you can see in this timelapse video of Chris creating a third-degree burn across the torso of Father Anthony, played by actor Dennis William Grimes in Season 10. 
 

View this post on Instagram

 
The dart injury
Seen in Season 7 Episode 8 "The Solution To Everything"
Blood rigs are another regular part of the job, as Chris told us in a previous interview. This Season 7 episode features the smallest blood rig Chris has ever created, which was for a character who unfortunately gets a dart embedded in his forehead while out drinking with friends. "In the scene, he gets hit with the dart, he yanks it out, there's a little dribble of blood, and then he passes out, all in the same shot — it was complicated to get the timing exactly right," Chris recalls. "We made him a fake forehead and a tiny blood tube that we placed back through his hair. As for the dart, it had a magnetized tip on it that matched a hidden magnet under the forehead prosthetic. We counted on motion blur to hide the fact that when he yanks the dart off, there's no sharp tip visible."
 

View this post on Instagram

 
The bee attack
Seen in Season 11 Episode 18  "Danger Is All Around"
To create the harrowing effect of a man being covered in bees, Chris and his team used a combination of materials on actor Michael Crowe, including hand-made bee models that were cast in silicone and painted by hand. "Michael wore a shirt covered in bees that my team made, which took us three weeks to make," says Chris."We also glued a few bees to his face to complete the look." To create a sense of movement that mimicked a swarm of bees trapped underneath his clothes, they used air bladders, ie. balloons that can be inflated and deflated on command. "There were seven air bladders underneath his shirt that we used to create a crude rolling movement," shares Chris. "That gave the editors just enough of a foundation to work with that they could then go in and add more realistic movement, and achieve that terrifying final scene."
The barbershop slip
Seen in Season 6 Episode 20 "The Strongest Among Us"
A challenge that stands out in Chris' memory was the effects he did for this episode, in which Brett and Dawson respond to a man whose ear has been cut off while getting a shave in a barbershop. "It was a really fun technical challenge to create the prosthetic of the missing ear, paint it to match the actor's skin tone, and add hair to blend in with his own," he says. "The finished look was just so cool." 
 

View this post on Instagram

 

Cindy's cancer diagnosis
Seen in Season 11 Episode 16  "Acting Up"
When Cindy Hermann, played by Robyn Coffin, was diagnosed with lung cancer, the FX department came through to make it as realistic as possible. "I sculpted custom prosthetics for her, which was a challenge because I knew that this was going to get some pretty heavy screen time and had to look pristine the whole time," says Chris. The team did multiple tests before settling on the final look, which they ultimately achieved using a total of 5 prosthetics: a set of brow covers, a 3-piece bald cap, with a fourth top-of-head prosthetic available in case she appeared without her headscarf.
 

View this post on Instagram

 
The archery accident
Seen in Season 11 Episode 13 "The Man Of The Moment"
A trip to the archery range goes terribly wrong in this episode, and FX stepped in to achieve this gruesome effect. Chris shares that he created a full wraparound neck prosthetic for actor Assaf Cohen, which covered a blood rig attached to the back of his neck and allowed the team to screw the pieces of the arrow in place, creating this unsettling illusion.
See all of these effects and more when you stream Chicago Fire on Peacock.