Spotlight: Tim Hardiman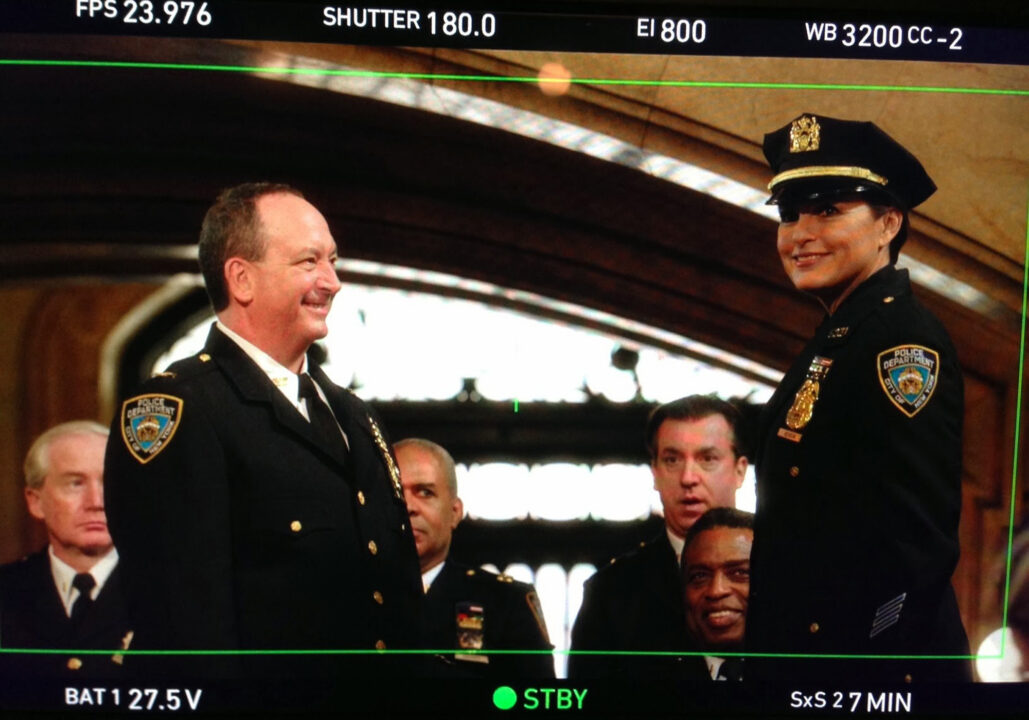 Law & Order: SVU's longtime dedication to staying true-to-life is part of what makes the show such an enduring hit. So we have to ask: how do the detectives of the Manhattan Special Victims Unit investigate crimes, deal with offenders, and care for victims so realistically? Enter consultant Tim Hardiman — with over 2 decades of experience in the NYPD under his belt, Tim gives SVU's writers all the insight and intel they need for storylines that are both accurate and exhilarating. Here, the former inspector tells us about his career, his approach to consulting, and how being in an episode of SVU became a story he'll tell for the rest of his life.
Q: You've had a truly storied career in the NYPD — can you tell us about your career journey?
A: I went into the NYPD straight out of the Marine Corps — I got out of there six days before I went on the job. I didn't even need to get a haircut! I graduated in 1986, and after the Academy, I went straight to work. Over the years, I served in many positions across different precincts throughout New York, like walking foot patrol in Midtown South, riding in plainclothes in East Harlem, working on everything from burglaries to homicide as a detective in Crown Heights, and investigating larger-scale money laundering and illicit substance cases in the intelligence division. Eventually I was transferred to the Brooklyn Special Victims Squad, and I stayed there for a few years until I became captain and went back on patrol. As a captain, I responded to 9/11 with a task force, and later took over the 50th precinct in the Bronx. I was later promoted to deputy inspector, and then moved west to the 47th Precinct, where I was promoted to inspector. That was my rank when I retired from the force in 2009.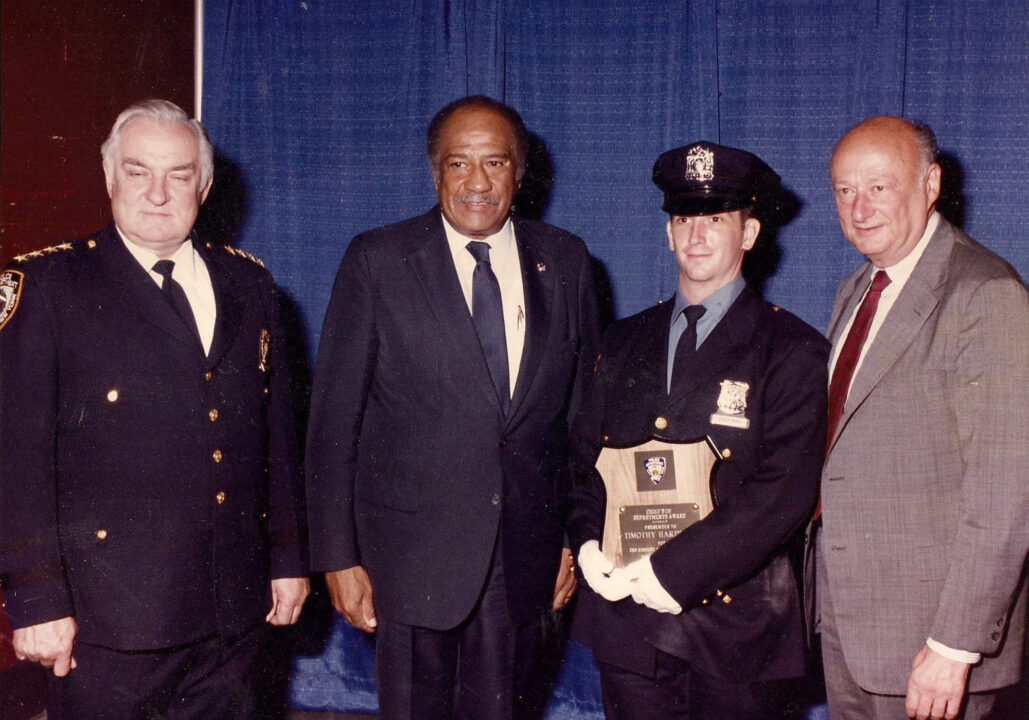 Tim (second from right) received the Chief of Department Award at the Police Academy in 1986.
Q: How did you end up with the Brooklyn Special Victims Squad?
A: In February of 1997, I was transferred to the Brooklyn Special Victims Squad. I had stepped in as supervisor for them in the past, if they needed someone in a pinch, but I really didn't want anything to do with that unit beyond that. That being said, once I was there, it ended up being fascinating work, and I stayed there for 2 years. My father's famous line is that everything will all work out in the end. Sure enough, he was right — it did work out.
Q: How did you end up in your role as a consultant on Law & Order: SVU?
A: When I was with Brooklyn Special Victims, I met a therapist who worked in the DA's office who eventually went to work for SVU. She would call me and ask questions like, "can you put a silencer on a revolver?" Eventually she called and asked if I could fly out to Los Angeles  — they were having a writer's retreat and she wanted me to come and speak with them, to tell stories from my years on the job. I remember Dick was there — he was only supposed to stay for the first half of my presentation but ended up staying for the whole thing. I guess I made a good impression, because after I flew home, they called and asked if I wanted to be the advisor for the show.
Q: What is it like to consult for SVU?
A: At the start of the season, I'll go in and talk to the writers. Sometimes I'll have a prepared presentation about specific briefs — for example when the NYPD changed the way they did photo arrays and lineups, I got the updated procedure and I briefed them on that. Throughout the season, the writers will call to brainstorm ideas with me; sometimes we'll have a general discussion, sometimes they need specifics on language or procedure. I also review each script and provide notes for accuracy. 
I always keep in mind that we're making entertainment, not a documentary. My agreement with them is I don't get bent out of shape if they don't take my edits, but even if they don't take my suggestions on a script, I always want to make sure that the writers have the correct information. I don't ever want them to find out the day after an episode aired that they represented something wrong. I never want them to be surprised and say they wish I had told them.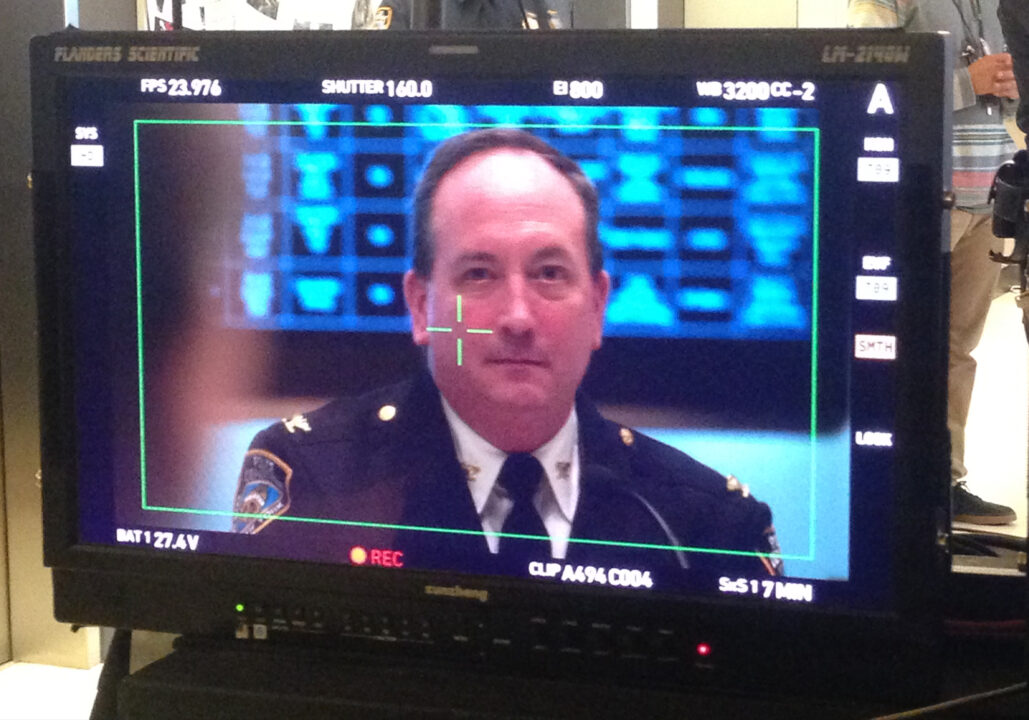 Behind the scenes of Tim on the Law & Order SVU set as an extra.
Q: Do you provide any additional information or training to the cast and crew?
A: If they bring new actors on the show, I'll usually meet with them to go over some of the physical aspects of being a detective, like handcuffing people, arresting people, and holding a gun. My wife was a cop for 20 years, so when I work with female actors, I can certainly address that perspective as well. I've also gone out on what we call scouts, looking for locations to do a particular scene.
Q: What's your favorite episode of Law & Order: SVU? 
A: One of my favorites is "A Final Call at Forlini's Bar" — that's one episode where I appeared as an extra. There used to be a restaurant in Manhattan called Forlini's that was right behind the courthouse on Baxter Street. Everybody went there: judges, district attorneys, defense attorneys, cops. All the Law & Order shows have shot there as well. One day, a rumor started going around that they were going to close, and within a few days, it was shut down. Luckily, SVU shot a final scene in the place, so we got to memorialize it. In that scene, Mariska and Raúl are having a very intense conversation at the bar, and as an extra, I was down towards the end of the bar. I had brought a flask full of Jameson with me, and I poured myself a drink while I was sitting there. Later on I realized that I may have had the last drink ever at Forlini's, thanks to the show. I love telling that story, since that place meant so much to so many of us.
"Betrayal's Climax" is another favorite of mine, because that's when I got to promote Mariska, as Olivia, to her new rank of Sergeant. She was so sweet — after the episode aired, she had a photograph of me and her together printed, framed, and mailed to my house!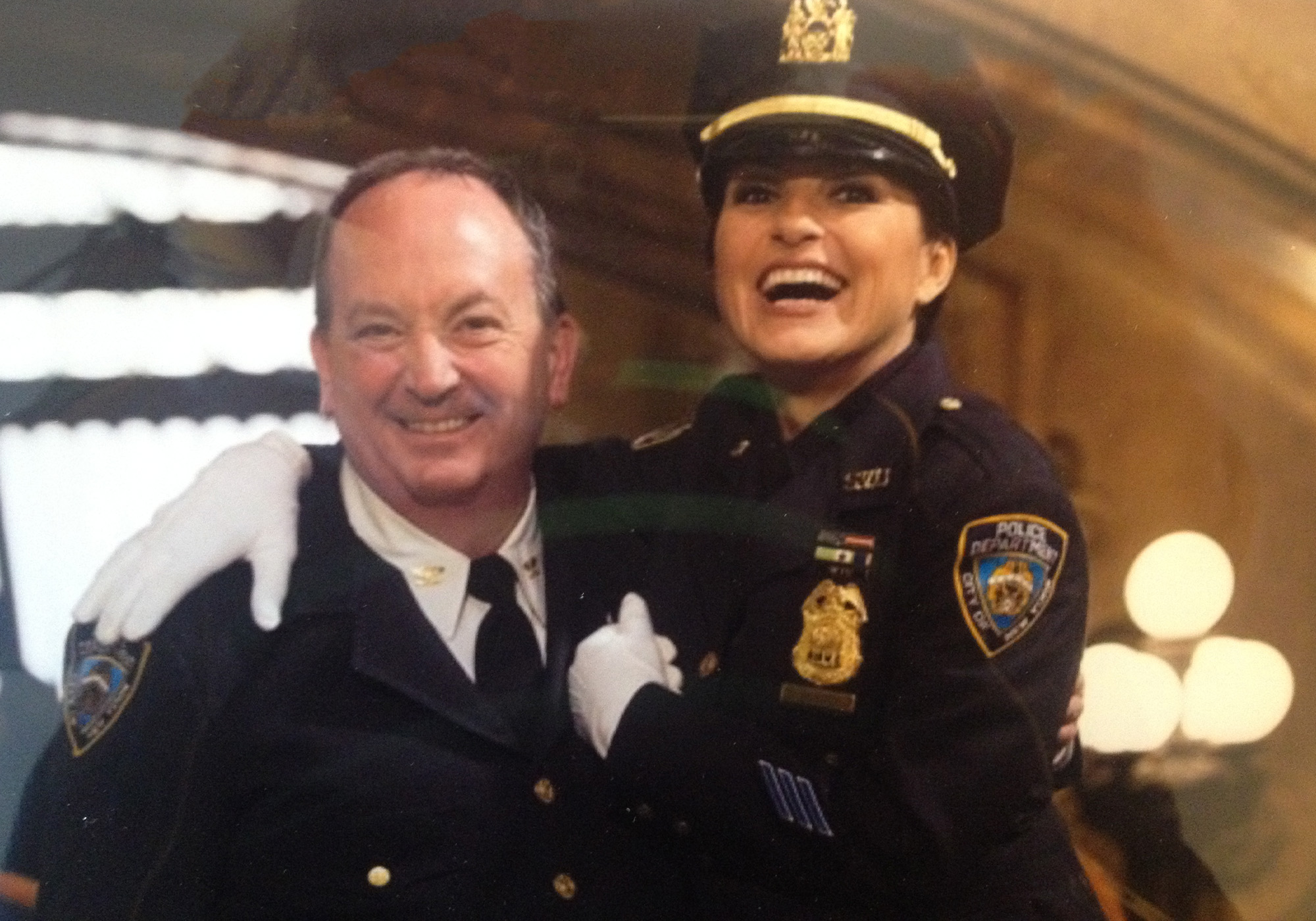 The framed photo of Tim and Mariska.
Watch Tim's cameos and catch up on all episodes of Law & Order: SVU on Peacock.