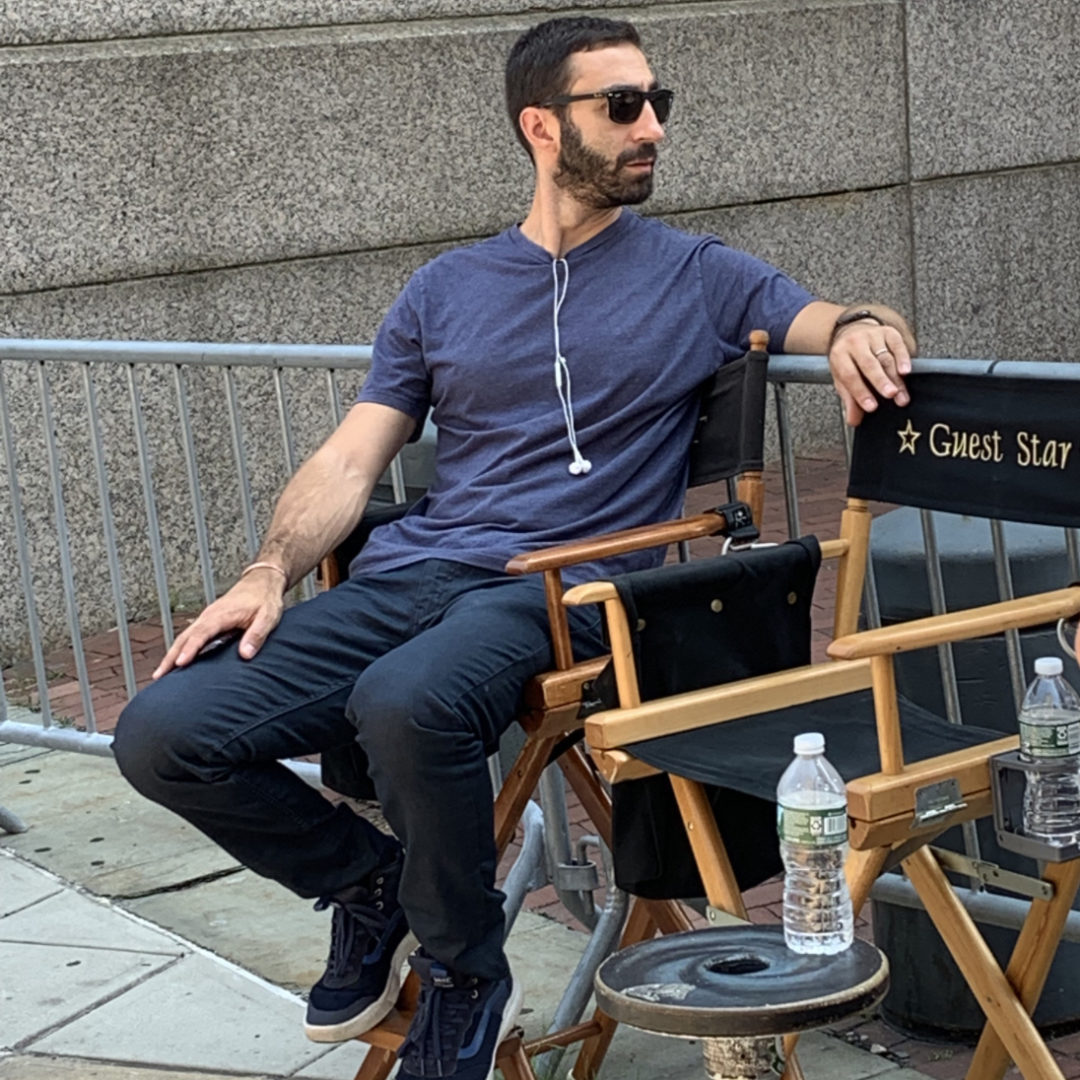 Spotlight: Mike Ciliento
Mike Ciliento may not be a household name for Law & Order: SVU fans (yet), but for 16 years Mike has played an instrumental role in the creation of the series. After starting as a Line Producer's Assistant, his first job out of the NBC Page program, Mike worked his way up to become one of the show's Producers. For Mike, SVU is more than a show, it's his family. He even met his wife on set when she worked as Mariska Hargitay's makeup artist. Today Mike is deeply embedded into the fabric of the SVU, involved in all aspects of the show's production process. Check out our interview with him below.
Q: Tell us about your role at Wolf.
A: I am a Producer on Law & Order: SVU. I started here in 2004 as an assistant to a Line Producer. I just kept hanging around like an SVU hood ornament and worked my way up.
Q: Can you describe a typical day as an SVU Producer?
A: Every day is different in production, which is one of the reasons I love this job. We film the same show, but every episode is different. Every day is a different challenge. I'm usually here on set from call time to wrap time, so any shooting issues, overseeing the director and ADs, as well as helping creative for Warren Leight, our Showrunner. I also take part in a lot of the prep meetings. So while we're shooting one episode, we're always prepping the next episode.
A lot of shows have three Producers but on SVU, it's just me and Ken Brown. It's how we like it because we're both alphas; we want to control everything. Ken is head of full season and episodic budgets, and I'm on the day-to-day, handling timing and individual crew needs. I'm approving, not approving, hiring, making changes as needed. For example, when we're prepping an episode with a crime scene in the park, and we want to use a drone, we need cops on horses with body cams. If we're on a boat, I'm figuring out the logistics of that with the studio rules and guidelines.
Q: How is your job influenced or impacted by working on a show with such a long history?
A: I hate the term "well-oiled machine" because people always say it, but it's true. It's very odd in this world of TV to have a show that's going now for 22 years. Dick Wolf, Peter Jankowski, and Arthur Forney have always been in charge, but on the show level, the Showrunner or Producers have changed a few times and from where I am on the ride, every time there's a change, it almost becomes a new show in terms of how we run it, what the scripts are like, lighting, shooting it…like are we using a steadicam, dolly, handheld? It keeps going in waves of things changing and that's happened in my time here about four to five times. So it feels like it's been different shows. It feels like going to different parties with your same friends.
Q: SVU has a passionate fan base and active social media community, does that ever inform your work?
A: It definitely informs the show. Warren [Leight] is very involved in social media and in touch with our fan base. A lot of fans have had something similar happen to them in the real world and this show is an outlet for them. We often receive letters saying, 'what you're doing is so important'. What we do and how it affects people is something we feed off of. We want to be fair and always down the middle as far as right and wrong, and sometimes we have to show the stories that aren't so great. We're Law & Order; we're ripped from the headlines, so it's always relevant to what's happening in the news.
The relativeness to the people for whom this hits home is a strong backbone of the show. SVU has something different than what the other Law & Orders had. I think it has to do with touching on the things people don't want to talk about, or people are ashamed to talk about. People can relate to the storylines. I mean Mariska, with the Joyful Heart Foundation and everything she does outside of here, so many people never met her, but they feel like they know her. I think that comes with how we write and shoot the show, the stories we choose to pursue. On an actual physical level, the fans find us wherever we are when we shoot in the streets in New York. It's nice that with the show being on air for so long that there are so many people who find us and want to get autographs or take pictures, stand outside in the -5° weather just to get a glimpse of Mariska walking by, or take a photo with Ice. It's really one of the reasons I enjoy coming to work. People care about the show. It's more than just a show at this point.
Q: Do you have any favorite moments from set to share?
A: So many! Robin Williams was on one of the landmark episodes we did and just being around him, he was joke, joke, joke, action. Serious, amazing acting, cut, joke, joke, joke. It was nonstop, and same thing with Jerry Lewis. These guys were such professionals. One of my favorite moments on set was with Carol Burnett. She showed up on day one and had the crew list memorized. She knew who everyone was. Another special moment was on Danny Pino's last day, Peter Scanavino took his guitar out and the actors all sang a song, and they all had a verse about Danny. This show is like a family. We really get along with each other, and we really liked being here.
Q: You started at NBC as a page. What was your trajectory like from the program to now?
A: I think literally the reason I got hired is I had a car, and I was available right away. So I was valedictorian of my college (Quinnipiac), and then I was a page for a year. I didn't have a great resumé, but I got a call from the SVU production coordinator who was a former page from Los Angeles. They were about to start production, and they needed someone to start right away, and they needed that person to have a car. I had a five minute interview and then started Monday as an assistant to a Line Producer named David DeClerque. I was also the script coordinator at the time. The Showrunner and the writing team were in LA, so I was the liaison between the creative team in LA and New York. That meant when we were prepping, say the prop guy wanted to use a Coca-Cola or the costume department wanted someone wearing a Nike shirt, I checked if we could clear that.
It was great because I got to be involved in the logistical side, learning about the budget and all that as well as the creative side. The Executive Producer at the time was Ted Kotcheff. He was amazing and my desk was right outside of his office and I just spent days upon days listening to him and learning from him.
Then I started doing the production calendar and the Internet started to become a thing, and NBC wanted the show to have some presence on the NBC blog. This was pre-social media, so I started doing that. Then I got an Associate Producer title and then a Co-Producer title. Mike Smith, who was a Producer Director, started teaching me the ins and outs of being an on-set producer. I'm at the point now where it would be difficult for me if the show ever ended because I don't know anything else. I've been here for 16 years!
Q: What is the best piece of advice you have ever received?
A: My line producer said to me early on that if you want to make it in this business, you have to be someone who can be told something once and then trusted to do it again. I was also told that as a Producer, you have to show leadership qualities and that means making decisions, even if you don't know what's right or wrong.