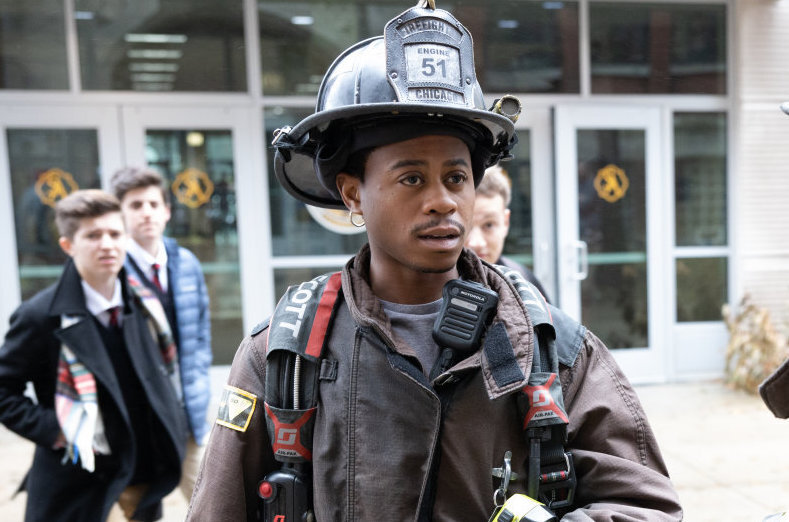 Spotlight: Daniel Kyri
Last season on Chicago Fire, Darren Ritter made One Chicago history as the first openly gay firefighter on the squad. It was recently announced that the classically trained thespian and Chicago native Daniel Kyri, who plays Ritter, was promoted to a series regular. We recently caught up with Daniel to discuss his promotion, growing up in Chicago…and the novel he wrote at just 14 years old!
Q: Tell us more about your background. Was One Chicago your first big acting role?
A: In terms of specifically broadcast television, One Chicago has been my first introduction into this playing arena as an actor. I actually started out with a little tiny spot on Chicago Med.
Q: How did you end up booking a role on the show?
A: It was the summer of 2018. I was working on a production of Hamlet as the titular character, and I was exhausted. In Shakespeare's cannon, Hamlet is only second to Richard III in terms of the amount of dialogue he has. So performing, it was essentially almost four hours of me talking nonstop. Since I was so exhausted, I was going to take a break from acting and focus on writing, but I got this audition from my agency, Stuart Talent in Chicago. I initially turned it down because in the One Chicago world if you were a day player you're not really supposed to audition for another role for a little bit of time in case someone recognizes you as one character and then you're playing another.
Anyway I went in, and it was Claire Simons casting. She gave me some adjustments to make. I made them, and then I walked out and I thought to myself, "There's no way in hell I got that." As actors we have to meet certain types, and to be totally candid, I was the only visibly black actor that was there that day. I thought they were looking for a different type for this character. I just brushed it off, let it go and made it to my evening performance of Hamlet that night.
And then the next day I got a call saying that they wanted me for the role, and they described it as a possible recurring role. I was over the moon.
Q: Growing up in Chicago, did you always want to be an actor?
A: I'm from the South side of Chicago, and I was always a creative kid. I read a lot, I was a Sci-Fi and fantasy fiction nerd. I used to write myself novels. When I was 14, I wrote my first novel. I actually found it recently on an old USB, and I read a little bit of it. I have to say, it's honestly not that bad for a 14 year old. So anyway, I did gymnastics. I did Chicago children's choir and the late Maggie Daley's program "After School Matters." I went downtown and did musical theater for a while. I've always known that I wanted to act; I liked the idea of stepping into another person's skin. I found a lot of what I care about as an actor and performed in Chicago's theater scene.
Also, when I was younger I started curating art parties out of my first apartment. There was a basement that we weren't technically supposed to go in, but my roommates and I cleaned the whole place out. We pushed all of our furniture into the garage and then we turned the front room into a gallery. We turned our bedrooms into these art installations you could interact with. We had live literature, spoken word and storytelling, and live music in our basement. I've always been concerned with representation and figuring out how we hear from voices that aren't in the spotlight.
Q: Was television a medium that you always wanted to pursue?
A: I think there is perhaps a misconception sometimes that an actor might have a preference of one thing over another. Some actors do, but being a born and raised working artist, and having Chicago be my training ground, the truth of the matter is the medium through which I get to work on my craft matters less than actually just getting to work on. I enjoy it all, and it comes down to the market that we're in. I think it's one of those things where preparation meets opportunity. I got the opportunity at a time in my career where I was prepared to do my best at it.
Q: How do you find acting on television in comparison to the stage?
A: I feel like theater is the actor's playground. You can play and exploit different emotional beats or moments. You can also do that on camera, but with theater, you go to work to play, to work it out. There's also something different in having a live audience; you can feel when something's working or landing in a different way that helps to inform your process.
Film feels a lot more technical. This is not the sexy, glamorous part. I have to pay attention to lighting and hitting my marks. I got to know where the cameras are and also do the emotional work.
Both are fun because I think ultimately, you have to be a problem solver to work in this field. The mediums are so collaborative and we each have our own little piece of the puzzle to make the full picture. I enjoy it, it's fun.
Q: Did you do research before taking the roll? How much did you know about firefighting?
A: It was just about getting what I could from the text, from the words, from the script, and filling in between the lines to build a backstory, empathizing with the character, and finding a way in…that was the pseudo dramaturgical and emotional typography work that I like to do when I get a new script. And then I had the opportunity to work with Steve Chikerotis, one of the show's producers and also a former firefighter himself. Getting the chance to work with him and ask him questions about his experience on the job is what helped me most. Talking with someone who experienced it firsthand is different than Googling.
Q: What is something you've learned about firefighters since joining the show?
A: When we think about firefighters, I think that we imagine grit and the hardcore, tough exterior that we imagine a person would need in order to do this. That does exist 100%, but the thing that strikes me the most is the sense of humor. It's like being around a bunch of jokesters. Obviously when things get real, things get real, but it was pleasantly surprising for me to see these folks just having a good time.
One of the things the show does really well is finding that balance between the grittier, more serious and traumatic storytelling, and the levity that is introduced with the hijinks that the characters engage in. Seeing the sense of humor and camaraderie is really nice to see because it nuances these first responders for me and humanizes them. I think about firefighters as larger than life and heroic, but they're also very human.
Q: When you started playing Ritter, it wasn't yet established that he was gay. Once coming out was written into his storyline, how did you develop Ritter throughout the season?
A: What's interesting about this format is that, as an actor, I brought something to the table that the writers really responded to in the writers' room, so they kept writing for me, and the character grew and became three-dimensional. A couple of people had told me about [the coming out scene] before I got a chance to read the script, but I remember feeling really nervous. I guess because with the way that the world looks today, there's a certain responsibility that is mine to hold this part of this character's story. But then I read it, and it fit with who I thought the character was, which is a testament to the writers.
It also challenged me as an actor to uphold and deepen my understanding of this person, with this new information. I'm excited for the work that's ahead in season nine because I think that there's a lot about him that is slowly being revealed, which is exciting because I think that he's a person who has maybe gone through a lot more than he lets on. I really like the dude. I didn't know he was gay at first, but now that I do, I love him even more.
Q: You've recently been promoted to series regular. How did you find out about that?
A: I got a call from the showrunner Derek [Haas]. He was just checking in with me. We talked about everything and then eventually it came back around to my work on the show and him wanting to have me around as a series regular. I feel like this was one of those divine alignment things. I really feel like as a person, I click really well into the Chicago Fire family that was there before I got here.
Q: Does that mean we'll get to see more Ritter on the screen? What can we expect from him in the upcoming season?
A: Fans can definitely expect to see more of Ritter…but I can't say more. I wish I could but, I can't.