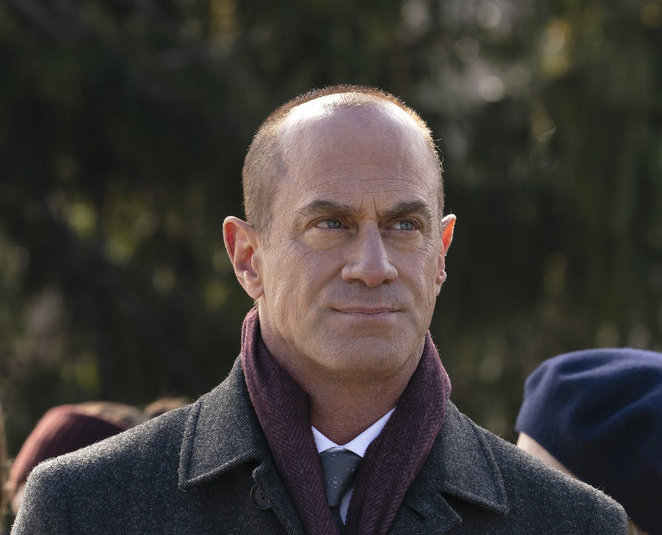 Spotlight: Chris Meloni
After a 10 year absence, Chris Meloni has reprised his role as NYPD Detective Elliot Stabler in the Law & Order: SVU spinoff, Law & Order: Organized Crime. We caught up with Meloni to discuss his decades long legacy as a part of the Law & Order franchise, his friendship with former co-star Mariska Hargitay, and what it was like to reunite with Stabler.
Q: After taking 10 years off from playing Elliot Stabler, how did the idea of bringing back the character come about?
A: That's a Dick Wolf question, but it came to me via a phone call that said Dick Wolf wanted to speak with me. I didn't know what it was about, but they pitched the idea and it was as simple as that. It took me a week of thinking about the pros and cons and what it would take logistically for me and my family. And I thought, I think I am ready once again to tend to that world.
Q: Organized Crime is a more modernized version of the Law & Order franchise. How do you think that impacts the way you approach the character?
A: The basics of acting are listening, answering and understanding the circumstances that you're placing a character in, and understanding what their strong suits are…it's building a character so it doesn't really matter what world they placed me in.
But the storytelling aspect of it allows for more breathable room – breathable moments for the character and for me as an actor. Organized Crime is not so fast paced as SVU. We get to focus on personalities, behaviors, and relationships because we're not only dealing with the detective side of the crime, but we also give the audience the bad guy's side in terms of what they're thinking, what their motives are and what their lives are about. So Organized Crime just allows for the story to be a little fuller.
Q: Stabler, as a character, has existed for over two decades. How has he evolved over the years and now in his new show?
A: So in the early days of Organized Crime, we kicked around some ideas and asked, 'where do we find Stabler?' The truth of the matter is you find him 10 years later, 10 years older, and hopefully wiser, but he's still just as human and having to deal with the issues of the day.
Q: How involved are you in consulting the writers on both SVU and Organized Crime about things that Stabler would or wouldn't do, or things he would or wouldn't say?
A: How it plays out is Ilene Chaiken, the Showrunner, and the writers spin the yarn, develop the whole story and give it to the actors and all the other heads. I would say my imprint is pretty substantial, but it's substantial in the specificities that I bring…as in dialogue and certain things that Stabler would say or how he would react to certain things. They're the ones who break the rocks; I just kind of shave off the edges.
Q: How did it feel when you first returned to the SVU set? Can you tell us a bit about the first day back playing Stabler?
A: I'm still a little surprised by it. It was surprisingly seamless, especially considering the circumstances under which he is reintroduced, but it was fun and nice. I thought it would be a little more difficult, but it was not that way.
Q: You and Mariska have had undeniable chemistry from the start. When did you know that would be a really special relationship?
A: It was almost instantaneous. We screen tested together, and that was it.
Q: Did you two keep in touch over the years?
A: Yeah. We would bump into each other on vacation or if ever I was back in New York City, I would give her a call or if she came out to LA, we'd meet up.
Q: Do you have a favorite moment from shooting Organized Crime so far? Or any favorite memories from SVU?
A: I can't boil it down on Organized Crime because in general every day is really very pleasant. It's a pleasant work situation…everything from hammering out the scripts to talking with the producers and directors, figuring out what we're doing and seeing, being part of the storytelling process with the people I work with…it's really been a very nice experience.
On SVU, there were definite moments and almost all of them were when we would touch on emotional moments between Benson and Stabler's complicated relationship. Also, it was amazing to work with so many great guest stars, including Ellen Burstyn, Henry Winkler, Alfred Molina, Isabella Huppert, Jerry Lewis. There were so many and that was always such a joy. It was a perk; I already had a great job and then I got to work with these people. It was a privileged place to be.
Q: How did you first get into acting?
A: I was a freshly minted graduate of the university of Colorado Boulder. I had taken all the acting I could without declaring myself a Bachelors of Fine Arts. I left school after three years and I didn't know what I wanted to be or do. I was working on a construction site and I called up an old high school friend and I said, 'what are you doing with your life?' And he said, 'I'm going up to New York City to study acting.' I said, 'wow, that sounds great. So am I, what's the number?' And I called up the neighborhood playhouse and I asked to be in their summer session. They said I could come up for an interview. I said, 'I will be up there tomorrow morning. What time is good for you?' I flew to New York the next day and the head of the school thought I was a little crazy. That was the summer of 1984 and I never looked back.
Q: Do you have any advice for people who would like to become actors?
A: Do it! There's all those expressions, how do you eat an elephant? One bite at a time? How do you climb a mountain? One step at a time. You'll figure out if it's 'for you' if you're deep into it and nothing is happening. The same thing happened to me. I'd been trying to get on the bill since I was 24 years old, but I didn't get my first real acting gig until I was 29. It was a lifetime! I couldn't afford to leave New York City for eight years. I worked as a bartender and a bouncer making $40 a night. I'm glad it worked out.
Q: What do you hope viewers take away from Organized Crime?
A: I hope they see it as a good, next generation Law & Order. I hope they enjoy it.