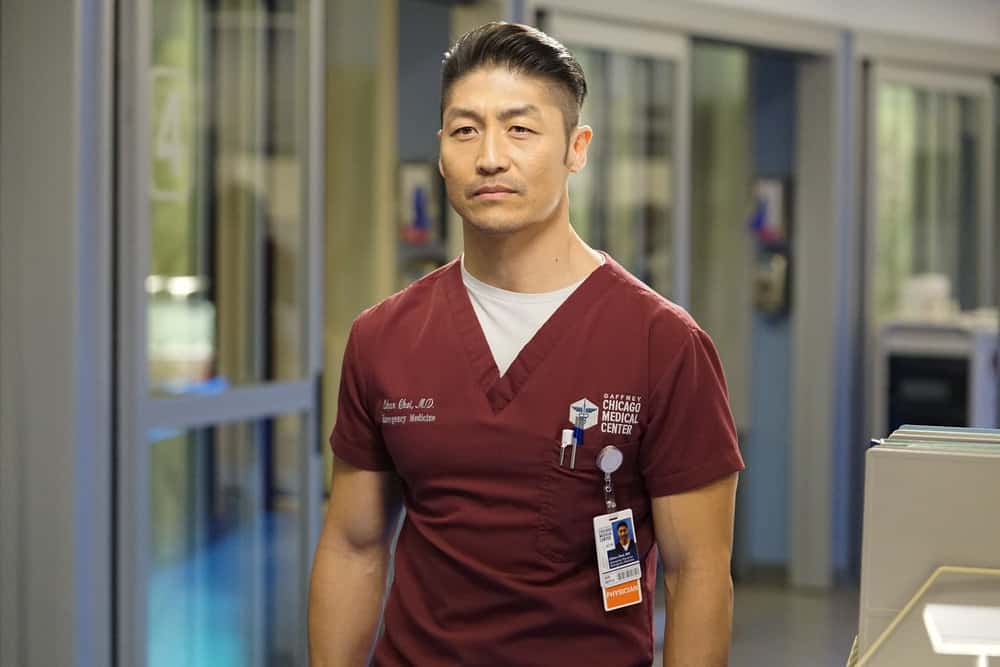 Spotlight: Brian Tee
You may know actor Brian Tee as the hardworking and scrupulous Dr. Ethan Choi on Chicago Med, who always fights for what he believes is right. Like his on-screen persona, Brian shares the same determination and devotion to his convictions that fans have come to love about Dr. Choi. Among his greatest passions is raising awareness for Asian and Asian American issues and fighting racism, using his platform to advocate for change and taking on roles that influence viewers in a positive way. We spoke with Brian about his background, his character, and his steadfast commitment to the fight for accurate representation in the media.
Q: Tell me a bit about your background.
A: I am half-Japanese, half-Korean, and I grew up in a small suburb East of Los Angeles called Hacienda Heights. It had a very eclectic group of people and a vastly multicultural slate. I lived in an environment where it was about a particular community and culture.
I didn't quite have a career path coming out of high school, so I went to a smaller college called Cal State Fullerton. I took a class called acting for non-majors because I thought it would be an easy A, and it completely changed my life. The first week, I caught the bug, the light bulb went off, and I was done. So from that class, I dropped out, went to a junior college for a little bit, and then fortunately UC Berkeley accepted me. When I went up north to Berkeley, I studied theater and found my roots as an artist.
Q: Was your family supportive of your acting pursuit?
A: After Berkeley, I lived in Koreatown with my grandmother and ended up taking care of her for the last 10 years of her life. I only want to share this because she did more for me than I could ever do for her, and she made me the human being I am now. But, in a conservatively Asian household, I think the ideal of coming to the United States and being a doctor or lawyer or something in business reigns supreme. So when I became the black sheep and sidetracked off that, my mom was supportive, but worried. There were always questions about me going back to school. One time, we were watching an episode of Chicago Med and she turned to me and said, 'That's great. So are you going to get your law degree at some point?' And I said, 'Well, I'm doing pretty well playing a doctor on TV, but you know, maybe down the line if I decide that acting won't work out for me, then I'll go to law school.'
Q: Before landing the role of Dr. Choi on Chicago Med, you were already a successful actor. How do you think your earlier roles have impacted your career? Are there any that you are especially proud of?
A: Each one had its own significant experience, but I have a particular affection for the very first big budget feature film I did, We Were Soldiers. I was super green and playing a real Vietnam soldier alongside the likes of Sam Elliott, Mel Gibson, and Greg Kinnear. I remember everyone was helpful, professional, and kind; they really brought me into the core group of guys. We became a mini family, as is often the case on film sets, but there was something special about playing real human beings and telling a story about real American heroes.
Q: Your introduction to Wolf Entertainment was a role on Chicago P.D. How was that experience and how did it transition into your current role on Chicago Med?
A: I've played a lot of bad guys in my career, and my role on P.D. wasn't much different, but the other actors on the show, and the director Sandy Bookstaver, were just amazing. I believe that the on-set experience solidifies how you remember a job. My experience on P.D. and working with such a warm and gracious cast and crew gave me a real affection towards the city of Chicago.
Right after I shot P.D. I shot another pilot in Chicago, so my affection for the city only grew. When I got Med, it seemed like everything that led up to that moment was predestined. The path was already guiding me there.
Q: Before shooting Med, how did you prepare for your role as Dr. Ethan Choi?
A: To be honest, Dr. Ethan Choi is loosely based on my brother, who is in the medical field. He went to medical school, then left, and then went back in. He never served in the military like Ethan did, but my brother's track into medicine was kind of atypical in a way that I found very interesting. I shadowed him several times at his work, and I saw him become a different person in that environment. He becomes very poised, Type A and by-the-books. He just knew instinctively how to be there for the patient.
So I had this pre-training of how I wanted to play Ethan, and he was written as a rule-follower so he innately had that poise. And then, of course, prior to shooting season one, we went through a kind of medical schooling that gave me a lot of insight.
And now I surprise myself all the time; the things I say become more familiar, my actions become a little more instinctual. As an actor, it all becomes more fluid when you have trained a lot, so each year I feel like I get better with medicine.
Q: You are of both Japanese and and Korean descent. Are there any customs or cultural elements that you've tried to bring to the character?
A: I grew up in an environment that was very suburban and culturally Americana, and I feel like Ethan did as well. I mean, if you go into the military, that's one in the same. But if we root it down to Korean customs Ethan has, I would say a lot of things that align with him are universal, like his sense of loyalty, especially if there is a storyline with his sister. I feel like the innate customs I chose for Ethan just reflect who I am.
Q: Do you have a favorite moment from set?
A: The hundredth episode was special. It was a milestone that very few people have the blessing to be able to achieve. Especially with the character I'm playing, I'm extremely grateful and blessed.
Q: This season, we see Dr. Choi under immense pressure. Has playing the role given you greater insight into the stress and demands on healthcare workers over the last year?
A: Oh, 1000%. I already had a profound appreciation for our healthcare workers and what they do, but especially during the pandemic, what they've been having to go through is tremendous. I applaud them and can't say enough about their bravery and sacrifice. I feel that art imitates life, so the frontline workers really push me to strive harder and work harder, to try to make my character as authentic as possible. When we talk about COVID on the show, I want it to be real and impact audiences, to help them understand what is really happening in the healthcare system. Our show is of course dramatized, but I always feel a sense of responsibility in playing a health worker to get it right.
Q: How did you feel when you were first told that Dr. Choi was going to be made Chief of the ED?
A: I thought it was great; he deserves it. Ethan represents this moral compass of the show in a sense, and as far as a leader is concerned, bending but not breaking is what you need to do, especially when your responsibility is not just to your patients, but also for your fellow colleagues and the hospital as a whole. I think no other character on our show would ride that line better than Ethan, so when they said it, I was like, 'Yes, fantastic!' Obviously with trials and tribulations, it's 'heavy is the crown,' which makes it really fun and exciting to play.
Q: This season, Ethan is in a position of power, and last season, we saw him in an action-packed scene diffusing a hostage situation. How do you feel as an Asian American man playing the role of a hero in one of the highest positions in the hospital, knowing the importance of that representation on network television?
A: For a lot of my career, I was stuck playing Asian stereotypes that continued a negative narrative of Asian Americans. But being able to play a fully fleshed out American hero means so much to me. I'm one of the very few Asian American leads on all platforms; I'm an anomaly. The greatest importance of my character isn't necessarily his position, which is admirable, but it's what he represents. Playing a non-stereotypical Asian American leading man, a hero saving lives on the frontline, especially today, is what we need. It is so important for the Asian American culture in our industry. And thanks to Wolf Entertainment, NBCUniversal, the Med writers and producers, we're doing it through Ethan, and we're doing it right. I couldn't be more proud and grateful.
I also don't underestimate the power of the pen and the role of our medium, both good and bad. We influence and teach audiences, giving them stories and experiences through television. So the importance of being on a hit network TV show in millions of living rooms every week, looking the way I do and playing the character I'm playing, it can help change the narrative. We desperately need more representation.
Q: We've seen reports recently about an increase in racist attacks on Asian and Asian American people over the past year. With your platform, what message would you like to share about this?
A: What's happening outside is an absolute travesty that makes me sick. And the worst part is that these attacks are heavily targeting elderly Asians who can't defend themselves. Unfortunately, this is not new for Asian Americans. From the Chinese Exclusion Act, to my father's parents and all of his relatives in Japanese internment camps, to experiencing the racial rhetoric of the pandemic, the xenophobia against Asian Americans continues to exist and reinvent itself. We have to change the narrative, because the narrative is wrong.
I can talk about things like the model minority myth, which was created to depict Asians as the 'good immigrants,' but it has become the scapegoat to the racial inequality that exists in America, you know, pitting us actually against all other BIPOC. It's also the stigma of the 'forever foreigner' that we have to live with, even though so many of us have been here for two, five, maybe even 10 generations and helped build the foundation and the growth of America, but yet we still don't belong.
Unfortunately for us, we can have a cultural passivity, keeping our heads down and noses to the grindstone, which has created an invisible minority for ourselves. We're deemed not important enough to be counted or valued, and because of that, the major issues that we face are a lack of coverage to create awareness. There is an overall lack of education, which is partly due to misinformation put out there by our industry. So we must speak out. We must fight to be heard. We must support one another so we can change the narrative, especially for the next generations to come. Racism needs to be defeated; there can't be room for hate.