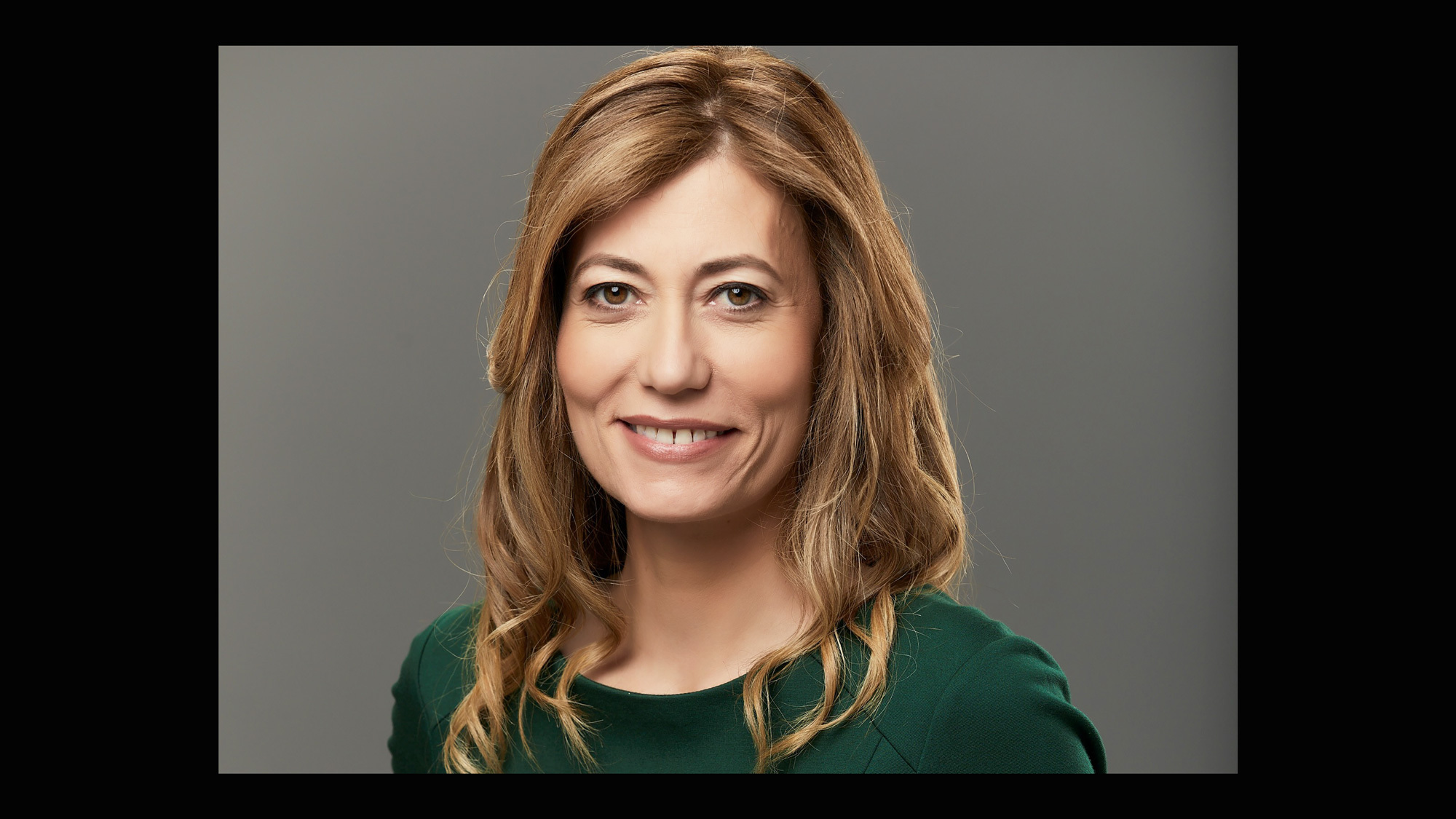 Spotlight: Anne Milgram
It takes a team effort to create and capture the stories we tell on Law & Order: SVU. Behind every episode are law enforcement and legal experts who lend us their expertise to ensure the show is credible and as true to reality as possible. As the legal advisor on Law & Order: SVU, Anne Milgram brings her dynamic and extensive knowledge of the legal field to life on the screen. From her beginnings in the Manhattan DA's office to her work as New Jersey's Attorney General, Anne is no stranger to the law. We spoke with Anne about her daily duties on SVU, favorite episodes, and memorable behind-the-scenes moments. Check out the interview below.
Q: Tell us about your background.
A: I grew up in East Brunswick, New Jersey. My grandfather and great-grandfather were the Chief of Police in South Amboy, New Jersey. When I was in high school, I was a Congressional Page in the House of Representatives, and it definitely got me very interested in law. When I was coming out of college, I was really interested in law school, but I was interested in it more as a way to work in government.
Q: What drew you to a career in law and criminal justice?
A: I didn't expect to ever become a prosecutor or work in law enforcement. But when I got out of law school, I clerked for a judge in Trenton, New Jersey named Anne Thompson, and she's an extraordinary person. She was the third African-American female federal judge in the US. She just had this incredible love of the courtroom and, believe it or not, the first time I ever saw a trial was when I was a law clerk, and I just fell in love with the courtroom. So, after I did my clerkship, I applied and got a job in the Manhattan DA's office; it's such a phenomenal office.
After about three and a half years, I was really interested in doing more long-term complex investigations, so I went to the Department of Justice where I went to the Civil Rights Division Criminal Section. I prosecuted hate crimes and official misconduct cases, including a case against a white supremacist. I traveled all over the US doing that work, and eventually, really ended up specializing in human trafficking work. I ended up becoming the lead prosecutor for human trafficking cases at the Department of Justice and traveling all over the world and the country.
Eventually, I switched jobs to work in the United States Senate for then-Senator Jon Corzine. When he became governor, he asked me to go back to New Jersey, and I became the First Assistant Attorney General and then became the Attorney General.
Q: How did you get involved in SVU and how long have you been advising on the show?
A: After I was AG, I started teaching law at NYU, where I still teach. I think Warren Leight had just finished doing the show In Treatment, and he had an expert advise him on therapy and some of the intricate parts of that show. I got a cold call or email asking if I could come in to meet, and it turned out that at the time I was teaching a seminar on human trafficking. He was interested in having somebody come on who could sort of provide advice on the legal side and the policing side. So, Tim Hardiman – a former NYPD officer – does policing, and I do prosecution and law.
Q: What does the role entail?
A: It involves a bunch of different things. A lot of times when the writers are thinking of a story or they're working on it, they might call me to ask 'What would the charge be that someone would be arrested for? What would the process look like?' Sometimes I'm brought in at that stage where they have specific legal questions that come out of the episodes as they're beginning.
It is hard to explain how deep of a commitment there is at SVU to getting it right, and to making the show accurate about the law. The rule is, and I very strongly agree with it, that if there's a conflict between drama and getting it right, drama wins but before they get there the team does everything they can to get it as accurate as possible. They do an incredible job of being able to tell these really dramatic stories in a way that is consistent with the way it would work in a New York City criminal court.
Q: At what point in the writing process or production are you consulted?
A: I often will go back and forth with the writers even before I've seen a draft of the script, because they want to know, okay, on this charge, would somebody be detained or would they be released? Recently, I had a conversation with one of the writers about something that can be a pretty complex legal issue. We went back and forth on how it would play out. Who would be involved? What court would it be in, and who would be in the courthouse? That's the kind of stuff we do a lot of. I will get a draft of the script, and at that point, I will do some research to check and make sure that the charges and legal scenes are right. I offer notes on the script, and sometimes I'll do calls after I read the scripts.
Q: Do you ever provide acting advice, specifically with respect to courtroom scenes?
A: These guys are such pros because they've been doing this show for a long time, so they don't need production help. It's a well-oiled machine. I did do a session with Peter Scanavino (Carisi) when he was first coming over to be the DA. He came in with all the writers, and we talked a lot about what it's like to be an Assistant DA. It's a really intense and constant pace, day and night. Getting to have those conversations with Peter and impressing that upon him was really fun for me, and I hope helpful for him.
Q: Are there aspects of criminal justice and law enforcement that the show gets right that you think are overlooked by the audience?
A: Well, one of the things I think the show does really well and that a lot of people may just overlook or not really think that much about is jury selection. They do an outstanding job. There's an episode coming up that I spent a ton of time with them on. In New York, there's a back and forth that goes on, where the prosecutor and the defense lawyer get to ask prospective jurors a bunch of questions. The show does a great job of capturing it.
The other thing I think the show does a really good job of is trying to bring up the challenges you face with charging crimes, and how you may have police saying somebody did it or believing that somebody did it, but Carisi saying he needs more evidence—just sort of showing that interplay because I think it's one thing that people have a sense of, but the show does a great job of showing how much of a back and forth there really is.
I also think they do a great job on portraying survivors—with the interviews and the relationships with survivors of sex crimes. They do a very, very good job of showing what it's like to work with someone who's been the victim of a horrific crime.
I've never worked in a single job in my life that had more drama or intrigue or was more fascinating than being an Assistant DA. The show does a terrific job of showing a window into that.
Q: Do you have a favorite episode or storyline you worked on?
A: Honestly, there are almost too many to list, but I love the human trafficking episodes they've done. They did an episode ["Girls Disappeared"] on Tenancingo Mexico, a region of Mexico that I prosecuted a lot of cases from. They really did an outstanding job just capturing what happens. There's an enormous amount of human trafficking coming from that part of Mexico into the US and into New York in particular.
I also loved the Carisi episode ["At Midnight in Manhattan"] where he has three cases: three victims, three sex crimes cases, and he has to figure out how to get everyone charged in a very short amount of time. It was just so authentic. I watched it, and I had that feeling—it felt exactly like being an Assistant DA and running from case to case in my early years.
Q: Have you consulted on other TV or film projects?
A: I've consulted a little bit. Every once in a while a show will call SVU and ask them who they use. I worked on Power, Orange is the New Black, City on a Hill.
Q: You are also a professor at NYU Law school and a practicing attorney. How do you balance advising on the show with your other work? What percentage of your time does the show take up?
A: Well, it's by far and away, as you can imagine, the most fun job in the world, and I feel so grateful to work with the amazing team at SVU. It's something where if I get a script or an email, I'm excited to do it. One of the terrific things about work like this is that I can read a script at 11 o'clock at night. There's this sort of intense period before shooting begins for a season where they start working on a lot of stories at once. There's always a couple of weeks where it's just emails after emails. When they start filming, it's a very steady pace of every week or two I'll get an episode or a draft to read. But it varies a lot. And I always love doing it.